West Kowloon wonders to discover now
Cultural and culinary adventures, extraordinary spaces and outstanding experiences in West Kowloon, Hong Kong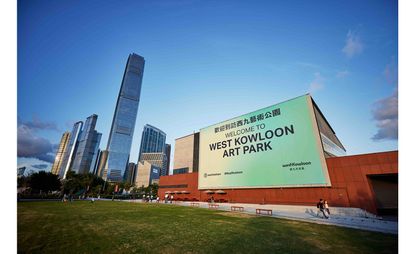 (Image credit: press)
In partnership with the Hong Kong Tourism Board
Across its diverse neighbourhoods, Hong Kong's West Kowloon transcends cultural, gastronomic, architectural and creative limits.
Spanning 40 hectares of reclaimed land, the futuristic shimmer of hyper-connected harbour front is at once audaciously international but also distinctly Asian; the West Kowloon Cultural District offers a live-action exchange between human beings and artistic spectacle. In Yau Ma Tei and Jordan, to the south of the Kowloon Peninsula, meanwhile, the old and new Hong Kong – markets, temples, street food, coffee shops, indie cinemas and open-air opera – are juxtaposed within thrilling and synergetic proximity.
Yau Ma Tei and Jordan
Stretching from Jordan north into Yau Ma Tei, Temple Street Night Market is a street of stalls selling Chinese bags and purses, chopstick sets and wall hangings. Sit outside on a plastic stool and eat fresh crab at one of the 'dai pai dongs' (outdoor food stalls) and drink in the buzzing Hong Kong atmosphere.
Paul Tse and Evelyn Ting, co-founders of local architecture and design studio New Office Works (and the brains behind the 'Growing Up' Pavilion in the West Kowloon Cultural District, see below), suggest beginning an adventure in this shimmering thrill-space with a visit to the architecturally intriguing former Yau Ma Tei Police Station. 'It's on a corner, with the entrance facing the corner and arcades on both sides. It has a very different spatial relationship with the street compared to the juxtaposition of buildings on other streets where a lot of older tenement buildings have the gallery style of arcade,' explains Ting.
Once a dock for the Tanka people's fishing boats, the pushed back and reclaimed Yau Ma Tei shoreline is now home to some of Hong Kong's oldest restaurants, historic temples and traditional craft, creating an atmospheric counterpoint to the modernity of the neighbouring West Kowloon Cultural District.
Formerly used by the Tanka people to worship the goddess of the sea to ensure a safe and prosperous fishing trip, the Tin Hau Temple is amongst the city's oldest declared monuments and one of its largest temple complexes. While you are in the area, stop for a traditional Hong Kong-style brunch at the Mido Café, which retains much of its décor from the 1950s.
A blue-collar area of the West Kowloon neighbourhood, Jordan is an authentic glimpse into daily life for Hong Kong residents, rich in family run-restaurants, jade and antique shops, artisans and heritage sites. Our recommendations include the wonton noodle soup with shrimp and pork at legendary local restaurant Mak Man Kee Noodles, the exquisite hand-carved Mahjong tiles at Biu Kee Mahjong, the beautiful embroidered shoes at Sindart and the traditional tailoring at Shanghai Baoxing Qipao.
On to the West Kowloon Cultural District, billed as the largest cultural initiative of its kind.
West Kowloon Cultural District
Both a world-class host and a nurturer of local talent, the West Kowloon Cultural District's arts education facilities stimulate home-grown artists and performers to explore and develop, ensuring long-lasting benefits for the people of Hong Kong.
A stage for an ever-changing series of exhibitions, installations, gallery openings, fairs and events, the district's creative energy is evident as soon as you emerge from the Hong Kong West Kowloon Station. Designed by Andrew Bromberg of Aedas architects, the building's distinctive arching, walkway-topped roof is just one landmark in a local skyline that is evolving apace.
Additions in recent years include the timber 'Growing Up' Pavilion; and the spectacular Xiqu Centre performing arts building, with 13,000 intertwining metal fins, by Revery Architecture and Ronald Lu & Partners. Herzog & de Meuron's vast and much-anticipated M+ museum of visual culture is now open.
Structures created to inspire, thrill, entertain, educate, and to encourage artistic talent are interspersed with a familiar Hong Kong streetscape of colonnades, alleyways, lanes, outdoor terraces and tree-lined promenades that link cultural structures to the waterfront, which has vistas extending to Hong Kong Island. From Foster + Partners' Art Park, an uninterrupted, two kilometre-long harbourfront affords residents and visitors an opportunity to admire the city's iconic, neon skyline.
Xiqu Centre and Chinese opera
Alongside its regular programme of Cantonese opera productions, concerts, screenings, theatre experiences and hands-on workshops, the Xiqu Centre stages an annual Black Box Chinese Opera Festival, where original productions are redesigned and reconsidered to offer new perspectives on the history, evolution and potential future of Chinese opera.
Bringing together emerging artists from around the region, the festival inspires and facilitates exchange between practitioners as part of the contemporary network of experimental Chinese opera festivals.
Making the arts accessible
Free and accessible to all, West Kowloon's Art Park invites visitors to discover the waterfront promenade and its open green spaces. A bicycle-sharing programme, SmartBike, provides easy access to harbourside restaurants. Located within Art Park and incorporating numerous soundproof studios, a black-box theatre and a live music bar is the minimalist, concrete structure of Freespace, the West Kowloon Cultural District's centre for modern performing arts and live performances across contemporary dance and jazz.
A hybrid between a retail mall and an art museum, K11 Art Mall in Tsim Sha Tsui is a unique platform showing pioneering artwork created by Hong Kong and international artists. Founded by Adrian Cheng in 2008, the art mall collaborates with the non-profit K11 Art Foundation to bring innovative projects and out-of-the-box exhibitions to a wide audience.
Hong Kong Palace Museum
This summer will see West Kowloon Cultural District's creative vision grow even wider. Opening soon is the Hong Kong Palace Museum (HKPM), developed with the concept of 'harmony' in mind and occupying a site that offers panoramic views of both Hong Kong Island and Lantau Island. With a design inspired by the layout of the Forbidden City in Beijing, the museum will offer a contemporary interpretation of the traditional Chinese aesthetic.
Dr Louis Ng, director of the HKPM, explains that the museum will embrace new curatorial approaches to offer a Hong Kong perspective and a global vision, presenting the finest objects from its own collection and other leading cultural institutions around the world. He says, 'In terms of vision and positioning, the HKPM is all about the idea of a "connected museum", to connect the past to the present, increase hyperconnectivity, strengthen connections with museums and audiences in mainland China, and connect Chinese culture with the rest of the world.'
Suggested West Kowloon itineraries
Below are four routes as possible ways to explore the neighbourhood – find the full itineraries on the Hong Kong Tourism Board website.
Route 1: Architecture
This tour focuses on the modern and traditional architecture of the neighbourhood. The architecture of West Kowloon tells a story of how the area has transformed over time from a humble fishing community to Hong Kong's centre for arts and culture. There are ten stops along this itinerary, among them Yau Ma Tei Theatre; Tin Hau Temple; Hong Kong West Kowloon Station; and Xiqu Centre.
Route 2: Handmade craft
For travellers looking to discover the history of the neighbourhood through local artisans and artists, this tour explores the connection between traditional crafts and the community. Highlights include Biu Kee Mahjong, Sindart embroidered slippers, and the Jade Market.
Route 3: Art in panorama
M+, a brand-new museum of visual culture, is the jewel in the crown of the West Kowloon Cultural District. This tour reveals how the area is now a world-class arts hub, and includes stunning views from Ozone at the Ritz-Carlton (Hong Kong's highest bar); M+; Sky100; and the Art Park promenade.
Route 4: Urban art
Street art has transformed many neighbourhoods across Hong Kong into public galleries and West Kowloon is no different. This tour takes in some of the city's most recognisable pieces, little known murals, unique installations and boutique galleries. Among the stops are Mido Café and the Précédée gallery.
INFORMATION
For more information, visit Hong Kong Tourism Board