World Design Capital Valencia 2022: what to see in the city
As World Design Capital 2022, the Spanish city of Valencia is hosting an array of exhibitions, installations and events. Here are some of the design highlights to discover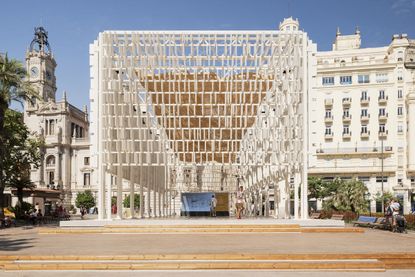 (Image credit: press)
The seaside city of Valencia, Spain, was named World Design Capital of 2022, and it has embraced this distinction through city-wide events, workshops and exhibitions, as well as new design initiatives that are intended to benefit the city long after the year is over.
The title of World Design Capital is given by the World Design Organization, a non-governmental organisation founded in 1957. Previous winners include Lille, France (2020), Mexico City (2018), and Seoul, South Korea (2010). In 2024, the award will be shared for the first time between the neighbouring cities of San Diego in California and Tijuana in Mexico.
Here, we look at some of the highlights from World Design Capital Valencia 2022.
Àgora València
A unique architectural project created for Valencia World Design Capital 2022 is the Àgora, situated in the main city-hall plaza, and designed to be a gathering point for events and for visitors to learn about the programme of activities throughout the year. A long rectangular structure with stilt-like legs gives way to a raised open interior made up of hundreds of small white square panels. Designed by Miguel Arraiz, architect, creative and project manager of World Design Capital Valencia 2022, together with Arqueha Arquitectura y Urbanismo, and Cosín Estudio, the undulating, wave-like roof reflects the city's connection to the sea, while the white panels, made with white MDi, a ceramic-like material, reference the region's rich history with the ceramics and stone industries. Among standout events at the Àgora, a unique lighting installation, conceived by creative studio Radiante Lab with energy efficiency in mind and shown nightly, aims to highlight the structure's architecture and create a connection with citizens.
Jaime Hayon at the CCC
A major highlight of the Valencia World Design Capital 2022 is the retrospective exhibition of Jaime Hayon, whose creative studio is based in the city, with further offices in Barcelona and Treviso, Italy. Opening on 22 September 2022, at the Centre del Carme Cultura Contemporània (CCCC), 'InfinitaMente' will bring together a selection of iconic works by the Madrid-born designer and artist, some of which have never been seen in Spain before, including Masquemask, a series of seven large tapestry masks. The exhibition will take visitors on a journey into Hayon's colourful universe and creative process over the last 20-plus years with large-scale paintings and sculptures, two rooms dedicated to his playful yet complex ceramic and glass work, and a room given over to materials, sketchbooks, drawings and prototypes. The exhibition will include work made for commercial products, such as vases, jars and furniture, but also limited-edition and unique pieces and works on paper. 'InfinitaMente' will be on view through April 16, 2023.
ADN Ceramico
While the award of World Design Capital is given to a city that embraces creativity, it is also an opportunity for the city to invest in urban projects and initiatives that use design to foster creativity and growth for the future. One of these is ADN Ceramico, a project launched by ceramicist Ana Illueca to promote Valencia's ceramic traditions and Mediterranean culture while building a platform for contemporary ceramic artists working across the city. ADN Ceramico aims to foster new relationships between the ceramic industry and independent designers for future collaborations through a host of workshops and events throughout the year, as well as a digital mapping of ceramic artists in the region. This map can also be used by tourists visiting the region and interested to discover new work, as well as by brands and companies looking for ideas and new collaborations. Notes Illueca, 'The most exciting thing for me is that the ceramic community itself is proud of this project. They recognise the need and put energy into making the project achieve its objectives.'
Various locations across the city; for programme, see adnceramico.com (opens in new tab)
INFORMATION
wdcvalencia2022.com (opens in new tab)
Blaire Dessent is a freelance writer, editor and copywriter specialising in contemporary design, craft, art and travel. She works as the managing editor for TL magazine, a biannual, French/English art and design publication. In 2020 she was an editor and contributor to Imaginings by Kiki van Eijk, published by nai010. She is also the co-owner of The Alameda Shop, a creative lifestyle shop in Mallorca that works with contemporary artists and makers.