Roketsu offers spectacular Japanese kaiseki cuisine in London
The new Japanese restaurant in London serves exceptional kaiseki cuisine in an intimate setting for a little slice of Kyoto in the heart of the UK capital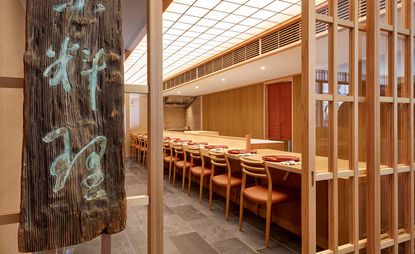 (Image credit: press)
How would you like to transport yourself to Kyoto for a few hours and experience authentic kaiseki cuisine? New Japanese restaurant Roketsu makes this a possibility for Londoners, having just opened its elegant doors in Marylebone.
Kaiseki dining is a culinary art form where the taste, textures, and appearance of food are carefully considered, prepared in the ways that will best enhance them, and beautifully presented as a succession of delicious dishes. This lesser-known type of Japanese dining originated as a meal served to Buddhist monks at tea ceremonies – modern diners may expect to be taken on a spectacular sensory journey through unique creations that draw from Japanese heritage whilst embracing Western techniques.
Roketsu's debut site in London is a significant new destination for the capital, with celebrated chef Daisuke Hayashi standing at the helm. He is one of the world's only masters of the kaiseki tradition and trained at the triple Michelin-starred kaiseki restaurant, Kikunoi, in Kyoto – globally, Hayashi is at the forefront of progressive next-level Japanese cooking.
Under his direction Roketsu offers an exceptional gastronomic experience presented as a ten-course set menu led by fresh seasonal ingredients, which changes monthly.
To describe dinner here as exclusive is no overstatement, as the restaurant is made up of only ten seats, at a counter that faces the chefs as they perform their art. A private dining room, seating six, is planned to open in March 2023.
Roketsu has a stellar sake selection to accompany such fine food; the drinks menu has been masterminded by Ryosuke Mashio – previously head sommelier at Michelin-starred Umu in London, where he played a major part in creating the award-winning wine list.
Over 70 sakes are available by the bottle, with more than 20 available by the glass, and if you prefer the grape to the grain, there are 350 different wines to choose from, with expert advice on the perfect pairing.
This is not an eat and run situation, but rather an evening of exquisite culinary theatre to be savoured over three hours, and played out in an environment especially crafted to enhance each delicate mouthful. The space has been designed in the sukiya style, which is associated with traditional tea houses – a pared-back, streamlined aesthetic characterised by the harmonious use of natural materials, especially wood.
The elegant interior of the restaurant was made in Kyoto using Japanese hinoki wood and shipped to London to be assembled by craftsmen from Nakamura Sotoji Komuten, a Kyoto-based company that is one the world's leading experts in the sukiya style.
The resulting setting is one of restrained elegance – a little piece of Kyoto in the heart of London that offers a beautiful, tranquil space in which to discover the splendour of kaiseki cuisine.
INFORMATION
roketsu.com (opens in new tab)
Melina Keays is the entertaining director of Wallpaper*. She has been part of the brand since the magazine's launch in 1996, and is responsible for entertaining content across the print and digital platforms, and for Wallpaper's creative agency Bespoke. A native Londoner, Melina takes inspiration from the whole spectrum of art and design – including film, literature, and fashion. Her work for the brand involves curating content, writing, and creative direction – conceiving luxury interior landscapes with a focus on food, drinks, and entertaining in all its forms