Celebrating the genius of the late Robert Opron
The French auto designer and engineer Robert Opron died on 29 March 2021, at the age of 89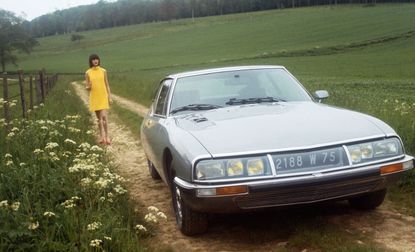 (Image credit: press)
Perhaps more than any other designer, Robert Opron's work came to embody the qualities of idiosyncrasy and individuality in French car design, helping set the output of the country's factories at odds with convention. In particular, his long association with Citroën took the company's engineering-infused brilliance to another level. One of his first roles on joining the company was re-styling the legendary DS, designed by Citroën's head designer Flaminio Bertoni with André Lefebvre and originally launched in 1955. After the Italian designer died in 1964, Opron continued his legacy, streamlining the DS's appearance with the Series 3 car in 1967. Regularly voted as one of the boldest and most influential car designs of all time, the redesign of the DS developed Bertoni's baroque forms and kept them feeling futuristic and advanced.
Opron was born in 1932 and grew up in Africa. From 1952, he studied at Paris's École des Beaux-Arts, where he took courses in painting, sculpture and architecture, the latter under the tutelage of the great modernist innovator Auguste Perret (who had given Le Corbusier his first architectural job some three decades before). Following his studies, Opron worked first in aeronautical design, then for the French car maker Simca. His designs included the 1958 Simca Fulgur concept, a flying saucer-style bubble car intended to preview the roads of the 21st century. Its aviation influences were all too clear, from the passenger canopy to the fighter jet-like rear spoiler.

After Simca shuttered its design department, Opron spent a couple of years working on consumer goods before joining Citroën in 1962. He took over the design department after Bertoni's death and found himself at the helm of a company willing to take stylistic risks despite its wavering finances. In 1974, the company went bankrupt, partly due to its ill-fated acquisition of Italian sports car maker Maserati in 1968. The union was meant to enhance Maserati's technical ability and propel Citroën into the luxury realm. The car that resulted, the majestic Citroën SM of 1970, was Opron's masterpiece.
The SM remains quite unlike any luxury car ever built. A large two-door four-seater, it had its origins in a sporting variant of the DS that was prototyped in the early 60s but never produced. Opron put everything into the SM, from the fully glazed front end, through to the tapering rear with its faired-in wheels and large tailgate. The SM was striking and stylish, and although it shared an engine with its Maserati counterparts, it was a fast grand tourer, rather than a sports car. Opron's design dovetailed perfectly with Citroën's technical innovations, which evolved from the DS and included the company's complex hydro-pneumatic suspension and self-centering steering that felt impossibly light at low speeds and firmed up once you got underway.
The 1974 bankruptcy resulted in Citroën being merged with its rival Peugeot to form PSA, Peugeot Société Anonyme. The massive factory at Quai André-Citroën was closed after nearly 60 years of operation and the last of the 13,000 SMs built had to be assembled elsewhere, as did the final year of DS production. Ironically, the SM aside, Opron's designs had proved extremely successful. In particular, his replacement for the DS, the Citroën CX, was voted European Car of the Year in 1975. The CX was a worthy replacement for the DS, with space-age looks inside and out and the same suspension and steering tech as the SM. 1.2 million CXs were built and it remained in production until 1991, advertised by Grace Jones, adapted as a limousine by heads of state, stretched to a six-wheeler, transformed into a convertible and even favoured by camera operators who loved the car's smooth ride. Stylistically, it fused the sleek fuselage of the SM with the neat shape of the earlier, smaller Citroën GS, another masterful Opron design that was also a big seller, with over 2m made.
The 1975 merger left Opron without a job, so he moved to head up design at Renault, where his designs included the hugely popular Renault 9 and 11 and the idiosyncratic Renault Fuego sports coupé of 1980. Opron is one of a select number of car designers who brought an architectural quality to their work, eschewing the clichéd perception of automotive beauty in favour of a more rational approach, shaped by aerodynamics and the requirements of the passengers. Opron's interiors often drew parallels with contemporary furniture, and though his work was rarely intended to be 'luxurious' in the contemporary sense, it had an individuality that set it apart from the pack.
Without Robert Opron, and the DS and SM in particular, it seems unlikely that Citroën would have undertaken to create the DS sub-brand in 2009. DS Automobiles is now a standalone company with a mission to bring Gallic luxury to electric vehicles, together with smooth riding, stylish designs. With Peugeot and Citroën both working hard at revitalising their image, there's hope once more for design that is both far-sighted and popular. Even so, Opron's genius is hard to translate into the modern era, thanks to tighter margins, a demanding and varied global marketplaces, and far less tolerance for deviation. Here's hoping his legacy survives into the electric age.
Jonathan Bell has written for Wallpaper* magazine since 1999, covering everything from architecture and transport design to books, tech and graphic design. He is now the magazine's Transport and Technology Editor. Jonathan has written and edited 15 books, including Concept Car Design, 21st Century House, and The New Modern House. He is also the host of Wallpaper's first podcast.