Paul Smith and Margot & Fergus Henderson join Bill Prince for Wallpaper* celebration dinner
To mark the release of Wallpaper's Legends Issue, acting editor-in-chief Bill Prince united with Paul Smith and Margot & Fergus Henderson to host an evening of wine, food and conversation at Rochelle Canteen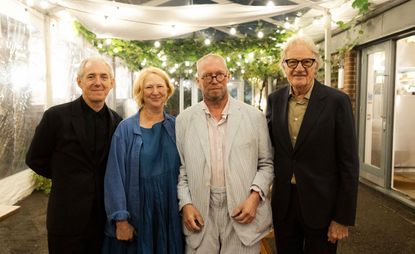 (Image credit: Luke Fullalove)
The much-anticipated October 2022 Legends Issue of Wallpaper*, guest-edited by Giorgio Armani, Kelly Wearstler and culinary royalty Margot & Fergus Henderson, deserved a true celebration, and there's no one better with whom to crack open the St John Crémant than the Hendersons themselves. They joined Paul Smith and Wallpaper* acting editor-in-chief Bill Prince for an evening of charm and carefully curated nourishment.
Tucked behind a wall on the perimeters of Boundary Gardens in Shoreditch is Rochelle School, a repurposed series of buildings housing a cluster of studios, production companies and, the star of last night's show, Rochelle Canteen.
Set in a former bike shed, the canteen is delightful; the team are familiar – Margot and Fergus' daughter Frances is among the staff – and the decor (consisting in part of a tablecloth of mosaiced aprons from St John's kitchens by Arrange Whatever Pieces Come Your Way and rustic arrangements of flowers from Linley Farm) is fuss-free. Water jugs, clearly handmade (the most telling sign being the imprints of fingers that are pressed into their curved necks), are sprinkled along the table, an endearing detail in the family-style table setting.
A close-knit bunch of Rochelle Canteen regulars arrives through a security-guarded arch, an in-the-know energy spreading throughout the gardens of this renovated Victorian school. Close friends of the Hendersons, musician James Righton and actor Keira Knightley slip into the space, a gleeful Margot meeting them with hugs, and drinks soon following. Knightley settles down next to photographer Johnnie Shand Kydd and his dog – a welcome addition in the leafy courtyard. Co-founder of Rochelle Canteen Melanie Arnold sits on a bench alongside Fergus, readily welcoming the stream of smiles, and writer Caroline Roux – who interviewed Margot and Fergus Henderson, as well as their friends and family as part of their Wallpaper* guest editor takeover – appears in the courtyard with open arms.
Awash with warmth and easy conversation, the evening primarily feels like a reunion of old friends. Wallpaper* managing director Malcolm Young wafts the air and relays that he and Margot go way back; and when asked about Rochelle Canteen's dinner guests, Martin Cohen, event producer at 6UP, smiles and says, 'I've known them all for years, they're like family.'
Brown shrimp, cabbage and chervil salad, and tomato, monk's beard and bottarga adorned the tables, served family-style and enhancing the intimate feel. Wine from St John, the restaurant chain co-founded by Fergus Henderson and Trevor Gulliver filled glasses, the finishing touch on an evening of relaxed luxury.
INFORMATION
Martha Elliott is the Junior Digital News Editor at Wallpaper*. After graduating from university she worked in arts-based behavioural therapy, then embarked on a career in journalism, joining Wallpaper* at the start of 2022. She reports on art, design and architecture, as well as covering regular news stories across all channels.
With contributions from