Hit the new sweet spot: Cédric Grolet at The Berkeley
World-renowned pastry chef Cédric Grolet opens a new patisserie at The Berkeley hotel in London, where even the scones are trompe-l'œil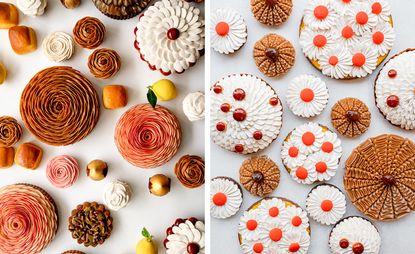 (Image credit: press)
Patisserie at the highest level is a realm of breathtaking artistry. It has its own history, language, accolades, and centres of excellence, and now it has an exciting new venue in London, as The Berkeley hotel opens the doors of a new patisserie under the helm of Cédric Grolet – one of the best pastry chefs in the world.
Grolet has already achieved rockstar status in his native France, with queues of discerning customers lining up to try his internationally renowned creations for themselves. (He has also launched a line of pastry tools for aspirational amateurs.) His decision to set up shop in London is a major coup for the city, and specifically for The Berkeley, as it is his first home away from Paris.
Cédric Grolet at The Berkeley: London's new patisserie
Grolet says, 'London was the first city I ever visited outside of France. It has always had a very special place in my heart, and to open in this incredible city is a long-held dream.' London has become quite a destination for luxury patisserie. Afternoon tea is a British institution that is already well established as an event in itself, with restaurants, cafés, and particularly hotels offering spectacular experiences worthy of a special trip.
Grolet's arrival on the London scene adds a sparkling jewel to its crown. The new patisserie, situated on Knightsbridge, with leafy views of Hyde Park, is open seven days a week offering viennoiseries, cookies, cakes and standout patisseries for takeaway. With the goods freshly made each morning, this is a first-come, first-served situation – once they're gone, they're gone.
You may anticipate outstanding croissants, both savoury and sweet, delicious tarts, and Grolet's much-admired trompe-l'œil fruit and flower cakes. To honour his London debut, Grolet has also created an exclusive take on a classic: 'We couldn't let this occasion pass without creating something unique for the capital – a trompe-l'œil scone, especially for the Brits.'
Cédric Grolet at The Berkeley occupies a new and contemporary space created by French interior designer Rémi Tessier, who has reflected the precision and brilliance of the patissier's craft in his use of glass, steel, and stone. The ceiling is adorned with gold leaf, and walls feature carved flowers and fruit to represent some of Grolet's most famous accomplishments. Scallop-shaped floor tiles recall the apple slices in the tartes aux pommes that he enjoyed as a child and the dish is a signature offering on the menu.
Placed as a focal point at the centre of the room, The Chef's Counter is a place where Grolet's masterpieces are showcased, and where guests may sit and witness the pastry chefs putting the finishing touches to their astonishing work. It's for an immersive experience, with a tasting menu that will evolve with the seasons, and take you on a sensory excursion in both taste and vision.
INFORMATION
the-berkeley.com
Melina Keays is the entertaining director of Wallpaper*. She has been part of the brand since the magazine's launch in 1996, and is responsible for entertaining content across the print and digital platforms, and for Wallpaper's creative agency Bespoke. A native Londoner, Melina takes inspiration from the whole spectrum of art and design – including film, literature, and fashion. Her work for the brand involves curating content, writing, and creative direction – conceiving luxury interior landscapes with a focus on food, drinks, and entertaining in all its forms