Ole Scheeren on how architecture 'is a celebration of life' at Brainstorm Design 2018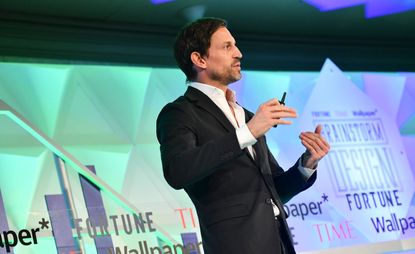 (Image credit: Stefen Chow/Fortune)
Great works of architecture can transform the way we experience and shape the world, says architect Ole Scheeren (opens in new tab). Over the past decade, Scheeren has transformed skylines all over Asia with landmark buildings including the conjoined towers of Beijing's CCTV Headquarters, the Jenga block-like forms of Singapore's Interlace (opens in new tab), and the pixelated skyscraper that is Bangkok's MahaNakhon (a set of terraced towers for Ho Chi Minh City is in the works (opens in new tab)).

Returning to Singapore, Scheeren took the stage at the Brainstorm Design conference (opens in new tab) to discuss the power of architecture. Buildings, in his view, should not only be functional and economically viable, but also facilitate cultural exchange and enrich public life.

Singapore is a case in point. The city-state 'embodies some of the issues that many Asian, and indeed global cities face today,' he said. 'As population density increases, the predominant typologies that define urban spaces are towers. Many of them stand in no relation to each other. I want to reestablish context and define a world in which we live in relation to each other.'

About a kilometre away from the conference venue (the Mandarin Oriental on Raffles Avenue) is his latest Singapore project, Duo (opens in new tab), built on land between what he called 'two completely unrelated buildings.' The solution? Forming a circular swoop with the twin towers to embrace a plaza that 'adds to the public life of the city itself, creating a civic nexus for a previously isolated part of the city.' The concave façades channel the winds, creating microclimates in the courtyards to create more liveable spaces.

Ole Scheeren addresses the Brainstorm Design conference (opens in new tab) in Singapore on 6 March 2018.
With the Interlace, Scheeren avoided towers altogether, instead stacking horizontal structures to create a complex form. 'From the outside it evades logic, but inside there is a precise system of courtyards and gardens, spaces that enhance the diversity of life,' he said.

He also used greenery everywhere. 'If we add the amount of greenery left on the site, plus the gardens we created on the roof, we get 112 per cent of the greenery that the strip of land would otherwise accommodate.' At the 2015 World Architecture Festival, Interlace was named World Building of the Year. 'It recognises that Asia is able to set new standards in what is possible in the world today,' says Scheeren.

More recently, Scheeren unveiled the Guardian Art Centre (opens in new tab), a layered structure in stone, glass and steel adjacent to Beijing's Forbidden City. Scheeren found a typology that didn't disrupt the dense, low-slung alleys in the neighborhood.

'My idea was a base that would be in extension of the small scale of the city. I would put smaller cubes on the site and flow a single volume of glass on top.' The cubes harmoniously blend in with the existing structures, while the 1700 sq m, column-free space above opens up all sorts of possibilities for exhibitions, auctions and other forms of public activity.

'It's a celebration of life in all the hybrid forms in which it exists. History can be an important part of how we build the future,' says Scheeren.

The Brainstorm Design conference is jointly organised by Fortune, TIME and Wallpaper*, bringing together more than 300 top speakers and delegates from 33 countries. See more here
INFORMATION
For more information, visit the Brainstorm design website (opens in new tab)
TF has been editor of Wallpaper* since December 2020. He is responsible for our monthly print magazine, planning, commissioning, editing and writing long-lead content across all our content pillars. He also plays a leading role in multi-channel editorial franchises, such as our annual Design Awards, Guest Editor takeovers and Next Generation series. He aims to create world-class, visually-driven content while championing diversity, international representation and social impact. TF joined Wallpaper* as an intern in January 2013, and served as its commissioning editor from 2017-20, winning a 30 under 30 New Talent Award from the Professional Publishers' Association. Born and raised in Hong Kong, he holds an undergraduate degree in history from Princeton University.