Going up: new players get eVTOL air taxis closer to reality
The new breed of flying taxi concepts is becoming increasingly plausible. All-electrical vertical take-off and landing (eVTOL) could transform the urban transport model. Here's why we think this could be the next big thing.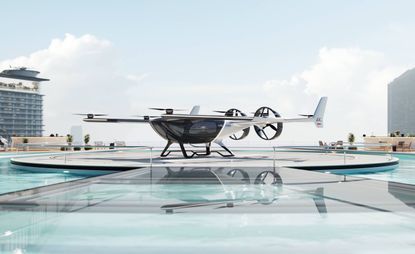 (Image credit: press)
The eVTOL craft is poised to bring change to travel patterns and urban design. Since we last looked at this emerging tech (opens in new tab), the scene has expanded substantially, with over 100 companies around the world working on Urban Air Mobility projects, ranging from established names in aviation and automotive, including Rolls-Royce, Hyundai and VW, to start-ups with big-name backers like Joby and Uber and Wisk with Boeing.
Either way, the idea is to create low-altitude transport to relieve congestion below, with vehicles that can take-off and land like a helicopter but are far safer, quieter, cleaner and more affordable, due to their multiple electric rotor redundancy, zero-emission in use and easier prep and maintenance. They should also be much quicker than most ground-based transport shaving up to an hour off travel times on routes above busy roads, like LAX to downtown LA, or Heathrow to central London.
Accordingly, early routes targeted are short-hop, intra-city flights – shuttling a handful of humans at a time from airports on the outskirts into city centres, where a private cab or public transport is slower, more congested and/or an unpleasant travel experience. But the technology could also help with cargo, medical or even emergency situations due to the smaller space required to take off and land. After visiting the recent UK Farnborough Air Show and beyond, Wallpaper* rounds up the latest in this new form of transport that could start flying paying passengers from early 2024, perhaps for the price of a top-end Uber.
1. Volkswagen V.MO
Volkswagen might translate to 'the people's car' in German but its latest eVTOL design – V.MO prototype 001 – is firmly targeting Chinese high-net worth customers, at least at first. VW's latest exterior design, created by British-born international agency Tangerine for VW's China division, proposes an eVTOL with an aerodynamically optimised cabin, eight rotors for vertical take-off and landing and two propellers for horizontal propulsion.
Able to carry four passengers for a distance of 124 miles, VW is ultimately aiming to create a fully autonomous vehicle, with test flights planned for later this year and more in 2023. Naturally, China will be first stop for the certification process.
Volkswagen Group China, Volkswagengroupchina.com (opens in new tab)
2. Supernal
Supernal became a brand within the Hyundai Motor Group in 2021 and the Group's president, ex-NASA veteran Dr. Jaiwon Shin, is now CEO of Supernal too. Its six-rotor eVTOL is designed to transport up to four passengers with a pilot but the company is also exploring cargo configurations of its plane and the 'vertiport' infrastructure on which it can land and then connect to other forms of transport as well.
Supernal won't be the first to market as its targeting a 2028 start, but it could still be a solid bet. Luc Donckerwolke, the Group's chief creative officer, said after he unveiled a full-size interior prototype at the UK's Farnborough Air Show: 'We have the advantage of not being in search of investors, like many of our rivals, so it's about making the right product at the right time. We have to end up with a product that is actually the most user-friendly.'
Supernal, Supernal.aero (opens in new tab)
3. Vertical
Bristol, UK-based Vertical revealed its first full-size, eight-rotor VX4 prototype at Farnborough 2022, complete with a 100-mile range, 200mph top speed and four-passengers-plus-one-pilot cabin. Claiming to be 100 times safer than a helicopter, first test flights are due this summer before certification and service in 2025.
Vertical's president Michael Cervanka told Wallpaper* that recharging the battery only takes 15 minutes with its 800-volt system. He predicts that 1000s of eVTOL planes will be in service by 2030 and 10,000-plus in the decade after that, with autonomous technology quickly replacing an onboard pilot. Virgin Atlantic is an early partner.
Vertical Aerospace, Vertical-Aerospace.com (opens in new tab)
4. Eve
Dedicated eVTOL company Eve unveiled its full-size, four-seater-plus-pilot cabin model at Farnborough. Good for 60 miles on a full charge, with 125mph top speed, the Eve craft is predicted to be in service by 2026. Originally part of Embraer, and still with the Brazilian aviation company as a majority shareholder, Eve is working with Portuguese transport specialists Almadesign to develop a human-centric approach.
For evidence of that claim, VP of user experience, Flavia Ciaccia, gave examples of design details that include the nearest seat to the door sloping downward not upward to aid entry and exit, and clearly illuminated lock signs on the doors to reassure passengers that its eVTOL is safe to fly.
EVE Air Mobility, EveAirMobility.com (opens in new tab)
5. Joby Aviation
Joby is one of the most well-established eVTOL firms, with ten years of development experience under its belt. The California-based company aims to be the first to launch a commercial service in early 2024 with a 150-mile max range, one pilot and four passengers, a 200mph top speed and zero emissions in use from its electric six-rotor plane. Uber offloaded its eVTOL Uber Elevate business to Joby in late 2020 while upping its financial stake in the same company and Joby's plan is to integrate its service into the Uber app, while also delivering rides through its own platform.
The first service will likely be in the US, but in July Joby announced that it is seeking UK certification too. In terms of cost, a Joby spokesperson describes it thus: 'Our goal, at scale, is to reach $3 per passenger mile, around 2026, although it might start more expensive. Expect it to feel more like Uber Black to begin with and come down to towards normal Uber pricing in due course.'
Joby Aviation, JobyAviation.com (opens in new tab)
6. Wisk Aero
Wisk Aero's aim is to be the standard-bearer for fully autonomous flying taxis. The US brand has aviation giant Boeing as a majority shareholder, and its fifth-generation, two-seat Cora eVTOL design takes a different approach to larger machines, utilising 12 wing-mounted lifting fans and one aft-mounted pusher propeller.
With more than 1,600 test flights already logged the technology is gaining maturity. This Autumn, Wisk will unveil its sixth generation eVTOL with four seats and more luggage space. This is the model is wants to get certified, although no date has been slated for an in-service product.
Wisk Aero, Wisk.Aero (opens in new tab)
7. Volocopter
German eVTOL maker Volocopter is another well-established company. Claiming to be the only brand to have a range of eVTOL products at a testing phase, its most recent craft is the four-seater, 60-mile range VoloConnect, which took its first flight in 2022 and is designed to connect suburbs to city centres.
Other products include the 18-rotor, two-seater, inner-city-focused VoloCity and the VoloDrone cargo carrier. The VoloConnect has six rotors for vertical take-off and two electric fans in combination with uplift-creating wings enabling faster forward speeds. Volocopter plans to launch its first commercial flights in Paris and Singapore by 2024.
Volocopter, Volocopter.com (opens in new tab)