In memoriam: Luigi Colani (1928-2019)
The German-born industrial designer, who spent a lifetime pursuing esoteric aesthetics, has passed away aged 91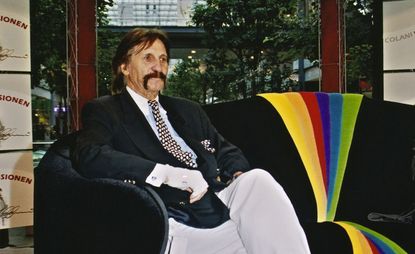 (Image credit: Ilona Studre / ullstein bild via Getty Images)
Car design has plenty of mavericks, but most end their days conforming to the corporate system or side-lined by the industry's innate conservatism. Some go on to become household names, channeling their outlier status into vehicles that achieve cult status or even sales success. And then there is Luigi Colani, the German-born industrial designer who spent a long lifetime pursuing esoteric aesthetics, whether wheeled, winged or otherwise.

Colani, who has died at the age of 91, was a true independent, a frequent collaborator with all manner of corporate clients, but never tied to any one particular direction. Born in Berlin in 1928, Colani first gained prominence as a designer in the 1950s, working variously as an art director, car stylist and product designer. There was a certain amount of smoke and mirrors in the Colani mythos, for he was an incessant self-promoter who was just as happy creating a conceptual vision that was far removed from engineering reality as he was designing consumer goods like cameras, televisions and chairs. His approach was unashamedly sculptural, a pioneer in biophilic and organic design, focusing almost exclusively on new materials like plastic and glass-fibre for their endlessly pliable qualities. Transport design was his main metier, and his team – headquartered in a restored castle in Karlsruhe – built endless prototypes of motorbikes, cars and trucks, often using existing models as the basis for wildly extravagant creations.
Colani's cars were often unique and outrageous; the Lamborghini-based Colambo, or radically re-bodied Mercedes, Ferraris and BMWs, all followed his principles of 'bio design', a take on curvaceous, nature-inspired forms that was far ahead of his time. His impressive truck designs were just one of many lifelong obsessions, and the insectoid cabs with their giant circular windscreens still appear to be from decades in the future. Ever contradictory, Colani paired this savant-like future thinking with some decidedly retro-styled designs, often evoking the flamboyant curves and swoops of Art Nouveau - the 1976 Aiglon roadster, for example, is like the feverish product of a union between F Scott Fitzgerald and Salvador Dali.

In person, Colani also tended towards the grand pronouncement, frequently referring to himself int the third person. Such was his studio's expertise that he was often sought after for conceptual visions, working for NASA, producing countless bold aeroplane models and racing cars, as well as airline uniforms, computer peripherals, sunglasses and even the obligatory Chinese conceptual super city (albeit way back in 1996). Yet despite the drama and obvious impact of his designs, few were picked up for mass production and he ultimately turned his back on Europe for a spell in the early 1980s, heading to Japan where he was well received, with influential designs like the Canon T90 camera proving to be a lasting legacy. Colani also worked as a sculptor, happily parlaying his love of form into unique pieces that naturally fed back into his product designs.
Towards the end of Colani's long life there was the inevitable reassessment, perhaps in part because his work from earlier decades still passed muster and stood out in the bearpit of digital design imagery. A major Design Museum retrospective in 2015 cemented his reputation, placing him at the forefront of the genre of organic design, a pioneer from days long before computers. Today, some elements of the Colani aesthetic appear to be little more than an old school take on naked futurism, often relying on hoary old tropes like scantily clad models and dubious parallels between the human form and the curves of inanimate objects, with a typically self-aggrandising world view.

Other projects still appear to be far, far in the future. Throughout it all, Colani never lost sight of the importance of his own image, delighting in cutting a raffish figure with his regular uniform of chunky white knitwear paired with handlebar moustache, cigar and shades; equal parts vivacious playboy, flamboyant artist and future visionary. Occasionally out of step with the times, or even out of the times themselves, Colani's passing is a sad loss for design with true personality.
Jonathan Bell has written for Wallpaper* magazine since 1999, covering everything from architecture and transport design to books, tech and graphic design. He is now the magazine's Transport and Technology Editor. Jonathan has written and edited 15 books, including Concept Car Design, 21st Century House, and The New Modern House. He is also the host of Wallpaper's first podcast.