London art exhibitions: a guide for this week
Your guide to the best London art exhibitions, and those around the UK, as chosen by the Wallpaper* arts desk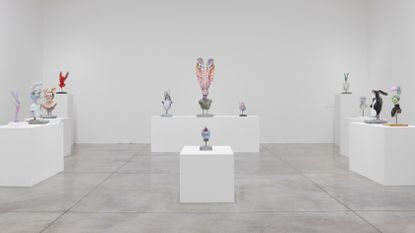 (Image credit:   the artist. Photography: White Cube (Ollie Hammick))
Narrowing down your London art exhibitions must-see list is rarely easy, even in the quieter months on the art calendar. As winter approaches, stay up-to-date with our guide to the best shows around the city.
---
London art exhibitions
---
David Altmejd
White Cube Mason's Yard
Until 21 January
Canadian sculptor David Altmejd creates surreal animalistic constructions of humanity at the White Cube. In the show, the ears of a hare are placed on variations of the human form, internal organs are presented in nooks of body parts and distorted busts of characters look on. Altmejd's work draws on the collective unconscious; here he represents 'Trickster'; a character repeated through our literature, art and dreams, pointing to our shared ancestral memories, and common humanity.
whitecube.com (opens in new tab)
Barakat Contemporary
No.9 Cork Street
Until 18 December
Seoul-based art gallery Barakat Contemporary has brought a selection of Korean artists to London until 17 December, in a presentation of three solo exhibitions at No.9 Cork Street. Works by Yunchul Kim combines artificial materials with natural experiences for his twisting, kaleidoscopic works, Chung Seoyoung considers changes in social structures, using excess industrial materials in her imposing sculptural works, and through video and written words, Sojung Jun offers a reflection on the ever-changing human experience, using her own as a reference point.
frieze.com (opens in new tab)
'Bloomberg New Contemporaries 2022'
South London Gallery
9 December 2022 - 12 March 2023
Bloomberg New Contemporaries' long-standing presentation of emerging artists is returning to the space in Peckham for its fifth consecutive year, this time featuring work from 47 artists. Selected from an open call, the group were whittled down from 1,500 entries for a show that explores portraiture; communication and disconnection; spirituality and mysticism; repurposing and retro-futurism; and reclaiming spaces.
southlondongallery.org (opens in new tab)
Hernan Bas: 'The Conceptualists'
Victoria Miro
Until 14 January 2023
American painter Hernan Bas depicts images of fictional protagonists surrounded by personal items and vices. Each scenario has its own story, ripe for the viewer to decipher; each character engages in behaviour that might be deemed obsessive, but under the guise of 'conceptual art', could be rationalised. Reflecting on self-identity, the works capture moments of transformation. 'What before might have been seen as a rogue gallery of "weirdos" is now, under the guise of 'art', a series of portraits of intellectuals,' comments Bas.
victoria-miro.com (opens in new tab)
Zadie Xa: 'House Gods, Animal Guides and Five Ways 2 Forgiveness'
Whitechapel Gallery
Until 30 April 2023
Through this site-specific, immersive installation, Korean-Canadian artist Zadie Xa uses sculpture, textile, and painting to explore interconnected histories, legacies and societies. Alongside suspended marionettes, sculptures and textile works, Xa has collaborated with artist Benito Mayor Vallejo to craft a house from wooden frames and hand-dyed patchwork linen, in response to the architecture and history of Whitechapel Gallery, and in dialogue with Korean mythology and tradition.
whitechapelgallery.org (opens in new tab)
Nasim Hantehzadeh: 'Ray of Light'
Pippy Houldsworth Gallery
18 November – 7 January 2023
'Ray of Light' reflects on displacement, spirituality and sexuality through abstract forms. Iranian-American artist Nasim Hantehzadeh's depictions capture human body parts intertwined with irregular, colourful shapes which reference cave paintings, indigenous Mexican art, and ancient Persian rug patterns. Along with earthy tones from oil, pastel and graphite, Hantehzadeh uses phosphorescent pigments in their works, highlighting key elements to form a series of intriguing images.
houldsworth.co.uk (opens in new tab)
'Interior'
Michael Werner Gallery
Until 4 February 2023
Curated by Andrew Bonacina, new paintings, sculptures and ceramics are presented in a group show at Michael Werner Gallery. From vibrant colour scapes by Walter Price to the distorted meditations on personhood depicted by Frank Auerbach, the show explores the internal world of the work's subjects. Including wide-ranging generational and creative approaches, the show delves confidently into the medium of portraiture and its potential.
michaelwerner.com (opens in new tab)
Universal Everything
180 The Strand
Until 30 December 2022
Staged in the industrial subterranean labyrinth that is 180 The Strand, 'Lifeforms' is the largest show to date for Sheffield-based digital art collective, Universal Everything. Mining from the Futurists' take on the body in motion, their otherworldly, hyperreal creatures fuse a spectrum of human behaviours with the diversity of the natural world. Presented and commissioned by 180 Studios, the exhibition will bring together 14 individual 'lifeforms' that exist in 'habitats' imagined by Ab Rogers Design
180thestrand.com (opens in new tab)
Sculpture in the City
City of London
Until 30 April 2023
For its 11th edition, Sculpture in the City takes adorns the streets of the financial district with twisting white trees by Ugo Rondinone, Victor Seaward's vibrant nests, which hang inconspicuously in trees, and an abstract sculpture by Emma Louise Moore, which becomes translucent when hit by the sun's rays. Overall, 20 sculptures will be on display, with six having remained in situ from last year's edition.
Shezad Dawood: HMS Alice Liddell
St Pancras International
Dawood's new site-specific sculpture for St Pancras International includes references to speculative fiction, steampunk and architecture to imagine a new mode of transportation. The multi-dimensional work, which draws on the station itself, as well as the story of Alice in Wonderland, explores an adventurer of multiple realities which includes an AR counterpart - accessed through a QR code.
Adrian Ghenie: 'The Fear of Now'
Thaddaeus Ropac
Until 22 December
Romanian artist Adrian Ghenie will be presenting new oil paintings and charcoal drawings depicting abstract distortions of the human body. The show explores discourses in social media and the impacts of online culture on modern social interactions, shining a light on perceived alienation and dislocation in the new age of online communication.
Amy Sherald: 'The World We Make'
Hauser & Wirth
Until 23 December
American painter Amy Sherald presents a series of striking small- and large-scale portraits in her largest European presentation to date. Reimagining, and borrowing from the conventions of historic portraiture, she inserts emblems of masculinity, culture and power into the images to centralise Black and Queer experiences.
Tschabalala Self
Coal Drops Yard sculpture
Until 31 January 2023
In her first public art commission, American artist Tschabalala Self will present a large-scale bronze sculpture (her first public artwork commissioned by Avant Arte), alongside a pop-up space with limited edition sculptures, silkscreen prints and a new film with individual responses to the ideas tackled in the sculpture. The installation will be staged on Lewis Cubitt Square, at the northern gateway to the Thomas Heatherwick-designed Coal Drops Yard complex. From 6 October – 17 December, Self will also present 'Home Body', a solo show at Pilar Corrias gallery, which will feature paintings, works on paper, furniture and sculpture investigating domestic space.
Christopher Kulendran Thomas: 'Another World'
Institute of Contemporary Arts (ICA)
Until 22 January
British-Tamil artist Christopher Kulendran Thomas' 'Another World' displays a series of newly-commissioned paintings created by AI algorithms alongside two video installations. Each meditates on the lost legacies of the Sri Lankan civil war, which ended in 2009 with the eradication of Tamil Eelam, a self-governed online liberation movement.
Barbara Chase-Riboud: 'Infinite Folds'
Serpentine
Until 29 January
In a major new show, American sculptor, novelist and poet Barbara Chase Riboud will present a portfolio of works unifying, yet opposing forces. The show, consisting of large-scale sculptures and works on paper from the 1960s to the present day, celebrates the legacy of Malcolm X, takes inspiration from Egyptian Pharaohs and explores 'power as wielded by women throughout the ages,' as the artist notes.
William Kentridge
Royal Academy of Arts
Until 11 December
William Kentridge's long-awaited show at the RA, his largest in the UK to date, is nothing short of a triumph. It spans 40 years of the artist's wide-ranging practice – including drawing, collage, film, sculpture, tapestry, theatre, dance and music – with many works unseen and created specifically for the show. As Kentridge told us in a recent interview, 'It's very much a view from the studio outwards... the studio is the central point.'
royalacademy.org.uk (opens in new tab)
Cecily Brown: 'Studio Pictures'
Thomas Dane
Until 17 December
British artist Cecily Brown is well known for monumental pieces comprising expressive and vivid abstract scapes. In this solo show at Thomas Dane, Brown exposes her audience to more intimate and previously unseen works, Brown notes that 'it is a lot harder to make a small painting than a big one, minute is often much more.'
Damien Hirst: 'Natural History'
Gagosian, Britannia Street
Ongoing
'Natural History', spanning 30 years of Hirst's greatest hits in formaldehyde-preserved animals, is prime-cut Hirst: unflinching and notorious. Through saggy-eyed sharks, bowel-like sausages, flayed innards, six-limbed cows, miscellaneous fish, upside-down sheep and Hunterian Museum-esque jarred organs and the most startling diorama of all: The Beheading of John the Baptist (2006), the show is a reminder of why the YBA icon pricked our ears up in the first place. With simultaneous surveys by Hirst, Francis Bacon and Louise Bourgeois, London's air is pulsating with pungent, visceral animalism, and it's stifling. Like it or loathe it, flayed, deformed, dissected, crucified bodies (or parts of them) seem to be de rigueur-(mortis), and Hirst's show plays a leading role. Maybe what we need is a bit of realism to feel alive, even if it is dead, and marinating in a tank. Read the full review
gagosian.com (opens in new tab)
Yayoi Kusama: 'Infinity Mirror Rooms'
Tate Modern
Until 2 April 2023
On the post-lockdown London art scene, there seems to be a recurring theme: immersion. These include Ryoji Ikeda's sensory ambush at 180 The Strand, and Es Devlin's recent Forest for Change at Somerset House for London Design Biennale. But Tate Modern is hosting the piece of work that arguably redefined the role of immersion in contemporary art: Yayoi Kusama's 'Infinity Mirror Rooms'. The year-long show will comprise two of the artist's acclaimed mirror room installations in a dizzying marriage of mirrors, light and water, which offers the illusion of limitless space. Also on view is The Universe as Seen from the Stairway to Heaven, 2021, Kusama's brand new 'peep in' sculpture, which has been created specifically for the show. At 92, Kusama remains a prolific force: the artist currently has simultaneous shows at Victoria Miro, London, the New York Botanical Garden, and a major retrospective at Gropius Bau in Berlin. She has also recently collaborated with brands such as Veuve Clicquot, which involved a striking sculptural intervention on the French Champagne house's premium cuvée, La Grande Dame.
---
Art exhibitions around the UK
---
Turner Prize Exhibition
Tate Liverpool
Until 19 March 2023
Veronica Ryan has been announced as the winner of the Turner Prize 2022, with the exhibition being held at Tate Liverpool until 19 March 2023. Alongside Ryan, the three runners up include Ingrid Pollard, Sin Wai Kin and Heather Phillipson. Across the seven rooms of the gallery's top floor are the artists' immersive and colourful inquiries into race, gender and maternalism.
Elizabeth Price: 'Underfoot'
The Hunterian, Glasgow
Until 16 April 2023
Turner Prize winner Elizabeth Price is opening the reflecting on the history of textile production in Glasgow during the industrial age, in both familiar and previously unexplored mediums. Using established carpet manufacturers Stoddard International and James Templeton & Co. as a starting point, Price presents a moving image work (and the titular piece for the show), as well as a hand-tufted rug, inspired by photographic records and archival pattern books. Alongside the show, The Hunterian and Glasgow School of Art are holding talks through the exhibition's run, as well as during a two-day conference.
Louise Bourgeois: 'Drawing Intimacy'
Hauser & Wirth Somerset
Until 2 January 2023
Hauser & Wirth Somerset will unveil an intimate series of works from Louise Bourgeois' private collection, consisting of plaster sculptures, paintings, drawings and works on paper seen for the first time. The excerpts from the late artist's collection are largely taken from the final four years of her life, and in true form, are deeply, madly human.
'Robert Indiana: Sculpture 1958-2018'
Yorkshire Sculpture Park
Until 8 January 2023
Late sculptor Robert Indiana was long concerned with the American dream and all it stood for in times of political and social change. His renowned LOVE sculpture (1964) – still as contemporary as ever – welcomes YSP's guests at the entrance of his exhibition, nodding to the underlying themes of equity and diversity in Indiana's work. His claim that 'numbers fill [his] life', 'more than love', proves itself with his brightly coloured ONE through ZERO sculpture, additionally manifesting the repeated use of words and numbers throughout. These ten numbers additionally refer to the cyclical human stages of birth, death, and everything in between.
ysp.org.uk (opens in new tab)
Writer: Saskia Koopman