Discover the designer behind a new release from Kendall Jenner's 818 Tequila
The story behind the design of 818 Tequila Eight Reserve, the latest offering from Kendall Jenner's highly respected tequila line.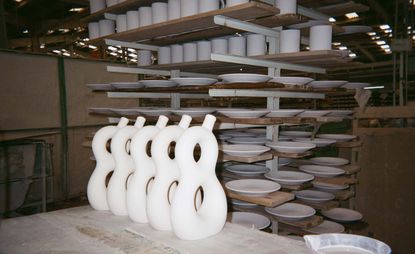 (Image credit: TBC)
Quality design might not be what you expect from a celebrity tequila brand, especially when it is from a mega-influencer like Kendall Jenner, who could likely simply put her name to anything and have it be a success. Yet, stars including George Clooney (who, with co-founder Rande Gerber, sold his Casamigos Tequila brand for $1bn in 2017), Rita Ora, and Michael Jordan have proven that celebrity-backed tequila brands tend to be surprisingly good, by no means relying on their famous associations to make up for poor taste or quality.
Jenner's 818 Tequila is no exception in this regard. Founded in 2021, the brand has a new release, called Eight Reserve – a blend of Añejo and Extra Añejo tequilas that have been aged up to eight years in French and American barrels. It features taste notes of vanilla, cinnamon, berries and praline, and the warm aroma of toasted nuts, honey, and orange peel. It goes down smoothly, without the harsh burn of lesser tequilas, and leaves behind a sweet aftertaste of vanilla and toasted coconut.
Yet, what really sets 818 Eight Reserve apart is its striking bottle design. Milan-based industrial designer Valerio Sommella worked with the 818 Tequila team to create the ceramic white bottle that, depending on which way it is turned, is in the shape of an eight or a one. The project began two years ago when Sommella met one of Jenner's business partners in Milan.
Back then, 'the whole 818 project was still far from complete', says Sommella. 'But the idea of working on a special bottle for a special aged tequila blend was clear. What was also clear is that Kendall wanted something immediately recognisable and that people would want to keep.'
The initial idea was to create a limited-edition bottle that offered customers a higher-end, collectible alternative to the brand's standard glass bottles that are used for its three existing tequilas, Blanco, Reposado and Añejo.
The innovative shape came out of an eclectic WhatsApp group made up of Sommella and Jenner's team. 'We had this Extra Añejo bottle chat where we exchanged a lot of references during the initial phase,' says Sommella. 'Pottery, vinyl records covers, metal teapots, cartoons… it was a constant flow of ideas and sketches during which the bottle changed completely multiple times.'
When the finished product was finally developed, it became clear that the bottle was worth keeping beyond a limited run. 'The whole process is spread around the world,' explains Sommella. 'The development process was done in Milan in my studio, prototypes were developed in Los Angeles and the final production is in Mexico.'
'The bottle is produced through slip casting and then glazed,' he continues. 'A process that in this case is almost entirely artisanal and, last but not least, in order to keep the bottle as simple and clean as possible, we decided to make it almost label-less. We kept only the necessary information on a small sticker on the back, a simple solution that makes this bottle even more unique.'
The result is an elegant design perfectly suited to the refined liquor inside. It will be available with the launch of 818 Tequila Eight Reserve on 19 September 2022.
INFORMATION
drink818.com (opens in new tab); sommella.com
Mary Cleary is the Beauty & Grooming Editor of Wallpaper*. Having been with the brand since 2017, she became an editor in February 2020 with the launch of the brand's new beauty & grooming channel. Her work seeks to offer a new perspective on beauty, focusing on the pioneering personalities, product designs, and transformative trends within the industry.