Feast on 1970s glamour with Gergei Erdei's new homeware
London-based artist and designer Gergei Erdei launches The Herculaneum, a new homewear collection inspired by 1970s glamour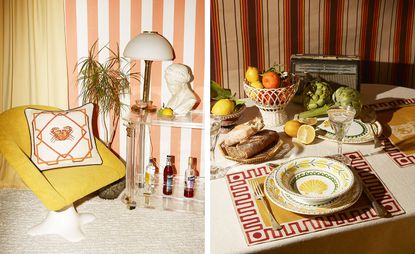 (Image credit: press)
The 1970s style playbook keeps on giving – with a lush, exuberant glamour that still excites and inspires creatives from every sphere.
On the interior decor front, London based artist and designer Gergei Erdei presents The Herculaneum Collection: his latest homeware range which is inspired by the 70s jet-set lifestyles of Florida, Palm Beach and the Italian Riviera. This was an era when travel was glamorous, and people dressed to fly; ascending aircraft steps like movie stars, discovering sophisticated new experiences, and bringing home exotic tastes and souvenirs.
That Erdei comes from a fashion background is evident in his elegant attire. He walks the walk, showing the Herculaneum Collection at his beautifully curated premises – a masterclass in louche 70s style which is an eclectic mix of vintage finds and pieces from the Gergei Erdei home collections.
The designer's work inhabits a place between art and interior design, with a signature style that draws from an expansive range of influences. He pays homage to the past and celebrates those that have gone before, but his aesthetic, while particular to the Gergei Erdei brand, is constantly evolving to stay fresh and relevant with new inspiration and ideas.
For the Herculaneum collection, Erdei references Greek and Roman antiquity; the ancient town of Herculaneum was a popular seaside retreat for the Roman elite, located in what is now Naples, southern Italy, and buried under ash by the eruption of Mount Vesuvius in AD 79. Erdei also acknowledges the influence of the British master of geometric prints, David Hicks, and the linear patterns of Andre Arbus.
Erdei's bold and sophisticated designs feature textured chalk lines and drawings in relaxed sketch strokes which flow over textiles and ceramics. The exhilarating colour combinations of the tableware evoke long, sun-drenched lunches by the sea, with jewel-like drinks sparkling in crystal glassware.
Erdei says: 'I designed the Herculaneum SS22 collection to a soundtrack of '60s and '70s Italian classics from Patty Bravo and Mina and Loredana Berte. Their joyful spirit inspired a certain nostalgia for the Italian Riviera during this glorious period. I wanted to create something very uplifting.'
A graduate in fashion design from the London College of Fashion, Erdei's refined skills and his understanding of art, architecture and design brought him to the attention of Gucci's creative office in Rome. He became part of the womenswear design team there as a ready-to-wear designer, and later as an embroidery designer and illustrator, and his distinctive drawings adorned prints, knitwear, and richly embroidered pieces in Gucci collections.
Erdei brings his precise fashion skills, with their exquisite detailing, knowledge of textiles and flair for colour, to the wonderful world of luxury homeware. The collection has been produced with an earth-friendly sensibility; handmade, and using natural materials - including tablecloths and placemats printed on linen, with hand-painted terracotta plates and serving dishes, and luxurious, opulently- patterned linen cushions, trimmed with rope and raffia, which are made locally in the UK. Erdei has sought out artisans with exceptional skills to make pieces of the quality his brand requires.
The glass and tableware are both produced in Hungary by small manufacturers who are the last craftsmen in their fields with the knowledge of certain special techniques.
Since launching the brand in 2019, Erdei has designed exclusive collections for Matches Fashion, Selfridges, and The Conran shop, all of which carry his work. The Herculaneum collection is now available to bring Erdei's lovingly crafted vision of Mediterranean joie de vivre to your home.
INFORMATION
gergeierdei.com (opens in new tab)
Melina Keays is the entertaining director of Wallpaper*. She has been part of the brand since the magazine's launch in 1996, and is responsible for entertaining content across the print and digital platforms, and for Wallpaper's creative agency Bespoke. A native Londoner, Melina takes inspiration from the whole spectrum of art and design – including film, literature, and fashion. Her work for the brand involves curating content, writing, and creative direction – conceiving luxury interior landscapes with a focus on food, drinks, and entertaining in all its forms