Cufflinks for every occasion, from classic to cool
Find the perfect pair of cufflinks for you in our guide spanning the offbeat and the elegant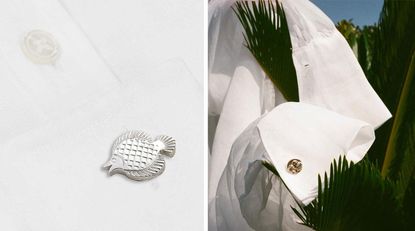 (Image credit: Selfridges, Victoria Strigini)
After a year of dressing for Zoom, now is the chance to embrace accessories that can be admired outside the parameters of a screen. Cast leisurewear to one side and overdress for every occasion, in three-piece suits complete with elegant or offbeat adornments, depending on your style. Cufflinks created by jewellers, whether simple pearls or fluttering fish, are an easy way to elevate a classic look – find the best cufflinks you in our guide below.
Cufflinks for Scandi cool: Kinraden
Copenhagen-based brand Kinraden infuses jewellery with an architectural sensibility thanks to founder Sarah Müllertz's background. Müllertz carries an emphasis on clean forms and classic design through to pieces that combine a Scandi cool with Japanese design heritage. The new 'Oxygen' collection nods to the Japanese traditions of joining wood, with each link fitting seamlessly into the next. It is a fluid philosophy carried through to 'The Two' cufflinks, which embed a black cushion-cut Mpingo diamond – one of the hardest and most expensive materials in existence – into a frame of recycled gold, making for minimalist accessories with a story to tell.
Pearl cufflinks: Mikimoto
Pearls aren't just for jewellery, and can bring a warmth to a shirt cuff that will be missing from more traditional precious stones. Mikimoto was the first to produce cultured pearls in 1893 – a pearl produced in the natural way, but with human assistance – thus bringing the previously unaffordable to a new market. Kokichi Mikimoto went on to build on this success with a striking design identity that merged Japanese craftsmanship with the manufacturing techniques that artisans brought home following trips to Europe. The resulting pieces remain intricate works of art. This set of grey and black South Sea cultured pearl cufflinks provide a simple dip into to this design-rich heritage – keep other embellishments low-key to really let the pearls shine.
Avant-garde design: Studio Renn
Bombay-based jewellery design company Studio Renn brings an edge to pieces that coil precious stones and metals around the body for surprising and sensual results. The 'Bal Gopal' cufflinks from the '(Un)Gendered' collection, follow this spirit of exploration, and reconsider the meaning of value, with antique coins that take on a new dimension when set into cufflinks. Clutched by hand-drawn blackened rose-gold wires, the solid gold coins – minted by the Nayakas of Chitradurga during the post-Vijayanagara period – are rethought as avant-garde accessories.
Cufflinks with an edge: Elizabeth Gage
Elizabeth Gage incorporates everything from ancient bronze and exquisite carvings to baroque pearls and precious stones in her work, which features hypnotising and unique forms. Her wide selection of cufflinks bring a jewellery edge to a look without the need for further adornments. Pieces twist silver into knots, dot dress studs with pink sapphires and encase bronze coins in gold for a collection in which everyone will find something to love. The 'Diamond Molten Gold' cufflinks are our pick – the molten wire detailing, adding a richly textured edge, is beautifully brought out by a single off-centre diamond.
Cufflinks for history buffs: Victoria Strigini
The 'Istros' cufflinks from Victoria Strigini take a leaf out of history for a design that brings legendary fables to life. The sterling silver cufflinks, based on the side of a coin traditionally illustrated with a profile, look back to the currency created in the 4th – 3rd century BC, Istros. Depicting two male heads, the meaning is ambiguous, although thought in the past either to have represented sunrise or sunset, or the Dioscuri – the half twin-brothers Castor and Pollux, who are better known as their reincarnation, the Gemini constellation. History buffs should enjoy figuring it out.
Quirky cufflinks: Lanvin
Who says cufflinks have to be serious? Many see a pair of cufflinks as an ideal opportunity to have a little bit of fun with their look, and if playful touches appeal, well then the quirkier the better. For more mischievous pieces, animal symbols abound – laden with symbolism, they make for a fun way into the cufflink trend. Lanvin finds the right balance between lightheartedness and quality in these fish rhodium-plated brass cufflinks.
Hannah Silver joined Wallpaper* in 2019 to work on watches and jewellery. Now, as well as her role as watches and jewellery editor, she writes widely across all areas including on art, architecture, fashion and design. As well as offbeat design trends and in-depth profiles, Hannah is interested in the quirks of what makes for a digital success story.