Cyprien Gaillard on chaos, reorder and excavating a Paris in flux
We interviewed French artist Cyprien Gaillard ahead of his major two-part show, ​​'Humpty \ Dumpty' at Palais de Tokyo and Lafayette Anticipations (until 8 January 2023). Through abandoned clocks, love locks and asbestos, he dissects the human obsession with structural restoration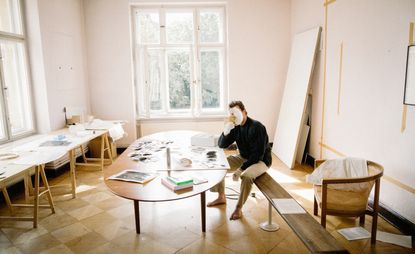 (Image credit: Oliver Helbig)
Paris is in constant flux, and no more so than now as it races to restore its most cherished monuments and reverse all traces of disrepair ahead of the 2024 Olympic Games.
While the Eiffel Tower is stripped of 350 tonnes of paint before a fresh coat is applied, and the Champs-Elysées gets 'reenchanted', French artist Cyprien Gaillard has been busy thinking about our perpetual battle for preservation, and how this transitional moment is fertile ground for unpredictability, chaos and disorder.
Paris' neo-Renaissance is at the heart of Gaillard's major two-part show 'Humpty \ Dumpty', simultaneously exhibited at the Palais de Tokyo ('Humpty') and Lafayette Anticipations ('Dumpty'). 'But this Renaissance is not all-encompassing. Not everyone makes the cut,' Gaillard explains via Zoom from his Berlin studio.
By everyone, Gaillard is referring to buildings and monuments, specifically those overlooked during Paris' facelift. 'The politics of renovation in Paris have their limits and obstacles,' he says.
Born in Paris in 1980, Gaillard has lived in Berlin, on and off, for the last decade. His studio is one of the only 19th-century buildings to survive the Second World War on its street in Tempelhof.
Though voluble and eloquent, he comes across as very private and somewhat enigmatic. 'I've never had social media. I make it very difficult for people to reach me', he says. While for many, the studio is the brain of the creative machine, for Gaillard, it's less important. Gesturing with an unlit cigarette, he continues, 'My gaze is always outwards. The studio is a place where things are finished or resolved; my ideas don't sprout from being indoors.'
'Humpty \ Dumpty' has been three years in the making. Its title draws on the 18th-century English nursery rhyme, popularised by Lewis Carroll's Through the Looking-Glass in which an anthropomorphised egg falls off a wall, cracks, and despite multiple attempts, couldn't be repaired. 'I also wanted a title that deflates the expectation of me not having a show in my hometown for 12 years,' he says.
Another underdog that has captured Gaillard's imagination is Le Défenseur du Temps, a mechanical clock created by French artist Jacques Monestier in 1979, which has lived in the Quartier de l'Horloge area of Paris ever since. Each hour, its protagonist, a brass warrior brandishing a sword and shield, would battle one of three beasts at random: a bird, dragon, and crab, respectively symbolising air, earth, and water. In 2003, the clock stopped moving and was never repaired. 'Dumpty' at Lafayette Anticipations will remedy this injustice. 'My idea was to do a "mouth to mouth" [on] someone else's artwork that had fallen into disrepair, to reanimate it,' he says.
But there's a twist: the reborn clock will run backwards, won't be bound to conventional time, and won't stop at the hour. 'I had this idea that he should gain back the time he missed,' says Gaillard. Instead of hourly, the warrior fights every 15 minutes.
What happens between battles is also important. While he 'fights' in silence, the 'intermissions' will feature two soundtracks, alternating between one that 'hits' and one that 'heals'. Hit offers nostalgia by way of fragmented, a capella versions of musical hits from the era when the clock stopped, which often function as ambient music piped into shops, cafés or taxis – the humdrum of the 'normalised city'. 'It was a bad time for music,' he quips. 'I was thinking about this music not as something immersive, but almost as an assault.'
The mood changes with Heal, for which Gaillard collaborated with Laraaji – a Harlem-based musician whom he calls an 'incredible person and mentor' – on an original soundtrack. 'Here, you have a sound that is doing the opposite; it's healing and has a sense of care.' he says. 'One talks about [the clock's] condition as an inert object, and one talks about transcendence and the possibility of defeating death.'
After Gaillard's show closes, the clock will return to Quartier de l'Horloge, restored to Monestier's original choreography.
As Rebecca Lamarche-Vadel, director of Lafayette Anticipations – Fondation Galeries Lafayette, and curator of 'Humpty \ Dumpty' explains, 'Dumpty' is an 'opera of the revival of a monumental abandoned sculpture, an animated Frankenstein of sorts.'
The venue is also integral to Gaillard's work. Lafayette Anticipations is set in a 19th-century industrial building that was given a new life in 2018 by OMA/Rem Koolhaas. 'It's almost like doing an exhibition inside a drill or a tool', says Gaillard. 'It's a machine for exhibiting; it's performative and malleable, what you'd expect from a museum of the 21st century. This building is, for the time of my show, carrying some of the rubble of the city.'
Another piece, positioned at the feet of Le Défenseur du Temps, propels the show into the realm of science fiction. Asbestos in its original form is a highly toxic fibre that is the bane of the construction industry. For a new sculpture, Gaillard sourced asbestos waste from the building site at the Palais de la découverte – the science museum within the Grand Palais. It's the first museum he encountered as a child, and another subject of intensive renovation ahead of the Olympics.
Much to everyone's relief, the asbestos in Gaillard's sculpture has been vitrified through a process called Cofalit (supplied by French company Inertam, which manufactured the sculpture), rendering it chemically inert and entirely non-toxic. The result is a glassy monolithic block which will lie like an obsidian tomb beneath Le Défenseur du Temps, a post-mortem of Paris in sculptural form. 'It's this idea that asbestos is not a problem when it lies dormant in the wall; it becomes a problem when you start renovating. It's a very meta work: a discovery within the museum of discovery,' reflects the artist.
This theme of penetrating crevices and cracks in systems continues in 'Humpty', at Palais de Tokyo. As Lamarche-Vadel describes, this chapter will 'propose a drift through several works that all explore the question of order and disorder, and the way they are especially visible in the territory of the city. It will be a wander through the hidden, marginal, anarchic spaces of the metropolis, and how much they tell about us and the world we live in.'
Visitors are first confronted by Love Locks, a new readymade installation titled after the Parisian tradition of lovers writing their names on padlocks, attaching them to public bridges, and throwing the keys in the river Seine. These symbols of affection in the city of love have caused a very real burden for the authorities, who have resorted to lock-proofing bridges with Plexiglas. They have also removed existing locks en masse, which is how Gaillard acquired material (on loan) for Love Locks. The locks from the Pont des Arts and the Passerelle Léopold-Sédar-Senghor now fill ten industrial-scale nylon sacks in his show. 'They're a normalised form of vandalism. You could argue that graffiti is easier to remove,' he says.
Further in is Gaillard's 2019 film Ocean II Ocean, which premiered at the 58th Venice Biennale. It begins with footage from metro stations in the former Soviet Bloc, where marble walls are embedded with fossilised sea life. The second half follows a fleet of retired New York subway cars as they're dumped into the Atlantic, creating an aquatic cemetery and ultimately, an artificial reef for marine life. It's a tale of two oceans, separated by time and geography, tied together in a vortex of constant renewal of man-made and natural systems.
Another film, Formation (2022) – dominating the colossal curved hall of the Palais with long, slit-like dimensions of 50m x 6m – depicts the cyclical movement of rose-ringed parakeets (native to India) through Königsallee, a high-end retail street in Düsseldorf. 'The interesting thing with their flight pattern is that they always fly on the dot in the last half hour of sunlight, rain or shine, all year long,' he describes. 'It's almost as though they've taken on the German rigour.'
Gaillard is not alone in the Palais' cavernous chambers. He's enlisting the work of four guest artists to occupy the spaces with him. A series of early drawings by Robert Smithson explore 'entropy and the sedimentation of the world, deep time – but they're also very wacky', says Gaillard. They are held down (after Gaillard managed to convince Smithson's estate) by vitrified asbestos paperweights. Elsewhere is Käthe Kollwitz's bronze sculpture Mutter mit zwei Kinder (1932-1936), and Giorgio de Chirico's Oreste e Pilade (1928), in which two melancholy figures carry rubbled ruins in their stomachs.
Daniel Turner, the only other contemporary artist in the show, offers a more performative bent. In Eiffel Cable Burnish (2022) the American artist has smeared the walls in a stain made from dissolved elevator cables Gaillard sourced from the Eiffel Tower renovation.
The Palais de Tokyo operates in a different timezone to the rest of the city, opening at noon and closing at midnight on most days. This, as Gaillard notes, allows visitors 'to see the show in an altered state of mind.' It's a small but significant detail in the context of 'Humpty \ Dumpty' and Gaillard's work more broadly, which centres on time and our attempts to manage its effects, both in our environment and on ourselves. 'His work manages to point out our struggles, the paradoxes and ambiguities of our values, beliefs, and behaviours,' Lamarche-Vadel continues. 'What do we love and why do we love it? What are we ready to let go and what will we preserve? What do we think is worth living? His whole work, though very seductive, is research on life and death.'
Many associate Gaillard's work with ruins, rubble and destruction, but 'Humpty \ Dumpty' is about the resurrection – or creative corruption – of those left behind. It demonstrates the artist's instinctive ability to reanimate relics of civilisation and capture the human obsession with renewal and reorder. While the protagonist of the clock seeks to defend time, Gaillard is in the business of upending it.
INFORMATION
Cyprien Gaillard, 'Humpty \ Dumpty', 19 October 2022-8 January 2023, at Palais de Tokyo and Lafayette Anticipations, palaisdetokyo.com (opens in new tab), lafayetteanticipations.com (opens in new tab)
Harriet Lloyd-Smith is the Arts Editor of Wallpaper*, responsible for the art pages across digital and print, including profiles, exhibition reviews, and contemporary art collaborations. She started at Wallpaper* in 2017 and has written for leading contemporary art publications, auction houses and arts charities, and lectured on review writing and art journalism. When she's not writing about art, she's making her own.
With contributions from