Cooking Sections champions regenerative eating at the Serpentine's The Magazine restaurant
London-based artist duo Cooking Sections has created a menu of three dishes for The Magazine restaurant at Serpentine North, as part of the museum's 'Back to Earth' programme featuring artistic responses to the climate emergency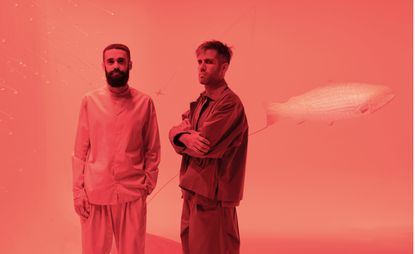 (Image credit: Oliver Cowling, © Tate)
Inside the Zaha Hadid-designed Magazine restaurant at Serpentine Galleries, a climate solution is cooking. In the face of a global food crisis, a complex set of problems around how we consume food requires an equally involved set of solutions. Daniel Fernández Pascual and Alon Schwabe, founders of London-based studio Cooking Sections, are working across disciplines with scientists, chefs, and policymakers on their ongoing research project, Climavore. As part of 'Back to Earth', the Serpentine's long-term programme featuring artistic responses to the climate emergency, Cooking Sections has created a menu of three dishes: one small, one large, and one sweet. Each aims to showcase an adaptive and ecologically conscious food system.
What began in 2015 to encourage restaurants across the United Kingdom to replace farmed salmon from their menus with more sustainable ingredients (by way of stimulating marine habitats and improving water quality) has become a much larger conversation. Through collaborations with Cooking Sections, cultural institutions in the UK, Sweden, and the United States are addressing the issue of food industrialisation. 'It's about setting the framework under which chefs, cooks, anyone, can develop to their own needs and scale,' says Schwabe. 'We're not writing recipes and distributing them to restaurants. These recipes are made by the chefs.'
The three new dishes for The Magazine are made with regenerative agriculture in mind. Using plants designed to improve the quality of their soil (a rotational crop practice rooted in Indigenous wisdom), tomatoes on toast is served on YQ sourdough – the name stands for 'yield/quantity', an alternative flour with a unique flavour profile. This approach strives to introduce renewed grain varieties at optimal times of the year. 'When you go to the supermarket in cities like London, you can find pretty much anything all year round; there's a certain erosion of the seasons,' says Fernández Pascual. 'So we started to consider how seasons can inform choices, but also policies or landscapes.'
When we regard market stalls during the seasons: spring, summer, autumn, and winter, we're met with artichokes, blackberries, pumpkins, and clementines. But looking to the future, with the trajectory we're on, what would it look like to eat in the season of polluted oceans and drought or the season of wildfires and flash floods? This is the exact thought experiment that launched Climavore. 'We thought it would be compelling to work with a restaurant to do an intervention there. For us, the restaurant is a significant place,' says Fernández Pascual, who points out that the term 'restaurant' can be traced back to the 19th century, and derives from the French restaurer. 'We like to see the restaurant as a place, not only to restore the human body but to restore ecology at large today.'
The Magazine is an extension of Serpentine North, which was built in 1805 as a gunpowder store. Hadid's glass walls curve in space around oval skylights in the deep billowed ceiling, creating a characteristically organic form. The gallery's gardens can be seen past sculptural columns that punctuate the dining room. As the Serpentine's leading food and drink destination, The Magazine is an extension of its exhibitions. After tomatoes on toast, the 'Back to Earth' menu offers British chickpea tabbouleh with bright summer squash, lemon verbena harissa, robust barrel-aged feta and mint. Then to finish, a seasonal rhubarb and British red and white quinoa cake, served with bay leaf honey and stem ginger ice cream. A simple menu infused with elaborate research.
Through Climavore, Cooking Sections offers actionable sustainability through collective transformation. Any one of the 'Back to Earth' dishes is a feast for the palate, but more importantly, it opens a dialogue. It encourages us to participate in the discussion and include all voices in developing new strategies and innovations to better the future of food.
INFORMATION
serpentinegalleries.org (opens in new tab); cooking-sections.com (opens in new tab)