Artist's Palate: Cooking Sections' 'Back to Earth' tomatoes on toast
Enjoy Cooking Sections' tomatoes on toast (pictured with a Seaweed Seeper), which is served at The Magazine alongside chickpea tabbouleh, and rhurbarb and quinoa cake. As seen in this month's Artist's Palate feature, a Wallpaper* homage to our favourite contemporary art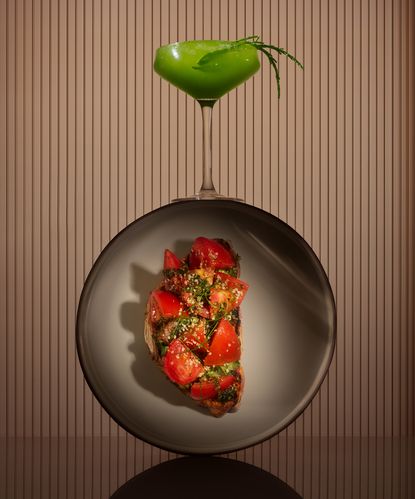 (Image credit: Marloes Haarmans)
London-based artist duo Cooking Sections advance the cause of environmental justice using research, video and installation. Their 'Climavore' project gained major ground last year when 21 cultural institutions across the UK removed farmed salmon from their restaurant menus and introduced planet-friendlier ingredients such as seaweeds, sea vegetables and bivalves. Coinciding with 'Back to Earth', a Serpentine North exhibition responding to the climate crisis, they have created a special menu for its restaurant, The Magazine. Their tomatoes on toast starter features hemp seed pesto and is the perfect match for a Seaweed Seeper, a gin-based cocktail topped with samphire.
Cooking Sections' recipe for tomatoes on toast
Ingredients
For the pita
150g YQ flour
5g salt
3g sugar
3g yeast
1 tsp olive oil
For the pesto
20g basil, chopped
25g extra virgin olive oil
2 tbsp Hodmedod's hemp seeds
For the topping
120g British heritage tomatoes, chopped and seasoned with salt, pepper and extra virgin olive oil
dried black olive powder and samphire, to serve
Method
Make the pita: mix together the dry ingredients in a bowl, then add 100g water and the oil. Knead on a lightly floured flat surface for 5-10 minutes, then transfer to a lightly oiled bowl, cover with a tea towel and leave to rise for about 1 hour. Split into two pieces, roll out to 3-5mm thick and leave to rest for 2-3 minutes. Heat the oven to 220C, then bake the breads for 2-3 minutes until puffed up and golden.
Blend the pesto ingredients, then strain and stir into the chopped tomatoes. Spread the tomatoes on the pita and sprinkle with dried black olive dust and samphire to serve
Recipe for Seaweed Seeper
Ingredients
50ml gin
3g rock samphire
15ml elderflower syrup
10ml lime juice
tonic water
Method
Add the gin and samphire to a cocktail shaker and muddle for 1 minute. Mix in the elderflower syrup and lime juice and add ice. Shake everything for 1-2 minutes. Double strain, then pour into a glass with ice cubes. Top up with tonic water and garnish with samphire.
INFORMATION
'Back to Earth' is showing at Serpentine North until 18 September, serpentinegalleries.org, cooking-sections.com
A version of this article appears in the August 2022 Design for a Better World issue of Wallpaper*, available in print, on the Wallpaper* app on Apple iOS, and to subscribers of Apple News +. Subscribe to Wallpaper* today!
TF has been editor of Wallpaper* since December 2020. He is responsible for our monthly print magazine, planning, commissioning, editing and writing long-lead content across all our content pillars. He also plays a leading role in multi-channel editorial franchises, such as our annual Design Awards, Guest Editor takeovers and Next Generation series. He aims to create world-class, visually-driven content while championing diversity, international representation and social impact. TF joined Wallpaper* as an intern in January 2013, and served as its commissioning editor from 2017-20, winning a 30 under 30 New Talent Award from the Professional Publishers' Association. Born and raised in Hong Kong, he holds an undergraduate degree in history from Princeton University.
With contributions from