Ole Scheeren reveals design for Barclay Village in Vancouver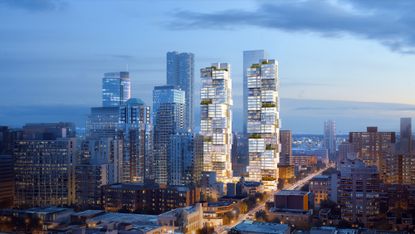 (Image credit: Büro Ole Scheeren)
Büro Ole Scheeren has unveiled the design for a new pair of residential towers in Vancouver, the Barclay Village. The architect was challenged to bring a new scale to the low to mid-rise neighbourhoods of the two Robson and Davie Villages, while being sensitive to the historic urban fabric.

'I wanted to replicate the scale and structure of the neighbourhood and conceived the building as an accumulation and vertical stacking of these cubic volumes, as if flipping the historic villages from the horizontal to the vertical,' says Scheeren of the design.

'What is also important about the project is that it merges a range of residencies, including so-called market housing and social housing. Rather than separating them into a high-end tower on the one hand and a low-end, second-class tower on the other, we are integrating the social housing component into the main building, so that all residents, regardless of their wealth, inhabit the same space and the same quality of space,' he says.
The two towers are each formed of stacked volumes that vary in size to open up receding platforms that serve apartments with balcony space.
The buildings are connected at the base by a multi-storey 'bridge' that forms the base of the building. This space includes internal courtyards, public amenities, communal spaces and gardens. Scheeren was inspired by the dense network of green spaces in the local area and wanted to create a soft boundary between Barclay Village and its neighbouring villages.

The Barclay Village is Büro Ole Scheeren's second project in Vancouver following Fifteen Fifteen located in the centre of the city 'With Fifteen Fifteen I wanted to counter the purely extruded verticality of the city, and create a building that was both vertical and horizontal, a building that expresses this very special point in the city, and that reaches out to connect to the surrounding city and nature,' says Scheeren.

'Barclay Village on the other hand is situated within a historic and popular neighborhood of the city, and it was important to acknowledge this context. It is less about creating a singular landmark, but a continuation and amplification of an existing neighborhood and a sensitive response to its local context.'

'Like many cities today, Vancouver's skyline is dominated by verticality and extrusions of generic towers that don't necessarily engage with their environment and create isolation rather than connection. Albeit in different ways, both projects seek to create this connection with their urban and natural surroundings.'
INFORMATION
For more information, visit the Büro Ole Scheeren website (opens in new tab)