Büro Ole Scheeren's MahaNakhon tower in Bangkok launches with floating glass sky deck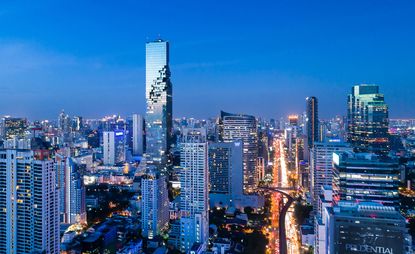 (Image credit: Srirath Somsawat)
Thailand's second tallest building, MahaNakhon in Bangkok, designed by Büro Ole Scheeren has opened its observation deck on the 77th storey of the building in celebration of its completion. The vertigo-inducing glass platform that extrudes from the top of the building, floating out 300m above the city, has been dubbed the 'Skytray'. Its purpose is to contribute to the spectacle of the contemporary city experience, essentially by delivering the sky, the skyline and the landscape beyond, on a tray.

'I think buildings live not only for the people that inhabit them, but of course also in relation to the city. The moment that a building participates in the urban spectacle both as part of its skyline and also as an experience, something that people can go into, engage and participate in, its significance shifts completely – suddenly the building inscribes itself in the individual and collective experiences of the city,' says Ole Scheeren (opens in new tab), principal of Büro Ole Scheeren.
The word MahaNakhon translates as 'great metropolis', and the towering complex has been designed to reveal its 'inner life' to the rest of the city. From head to toe, its organically sprawling, then neatly spiraling sculptural formation of terraces, balconies, floating living rooms, wrap up retail, living, hospitality and social space across 150,000 sqm – 'pulling the activity of the urban ground up into the sky', says Scheeren.

At the base of the tower, MahaNakhon splits into two parts to carve out a public plaza, slowly merging with the city to form 'MahaNakhon Hill', a series of cascading indoor and outdoor terraces inspired by a mountain landscape. An adjacent seven storey retail centre 'MahaNakhon Cube' forms a direct bridge link to Bangkok's Skytrain, connecting it physically to the city infrastructure, as well as the skyline above.
'The idea was to take the life of the city and the life at street-level and let it enter and ascend the tower all the way to its top floors, so that you have not only a public square at the ground level, and all this social activity along the shaft, but even the top of the tower is given back to the public domain. It is a building that embeds itself firmly in the city and the public realm and celebrates the idea of togetherness and social activity, which is essentially what life in the city is all about,' says Scheeren.
See more of Ole Scheeren's vertical visions in Vancouver (opens in new tab), Frankfurt (opens in new tab) and Ho Chi Minh City (opens in new tab)
INFORMATION
For more information, visit the Büro Ole Scheeren website (opens in new tab)