Best recycled designs from the Wallpaper* Design Awards
Contemporary designers are using waste to create furniture designs that combine a distinctive aesthetic with a sustainable approach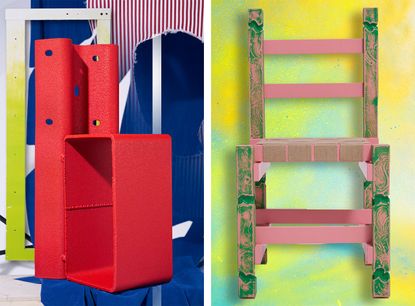 (Image credit: All artworks: Ibrahim Azab. Interiors: Hannah Jordan)
Reusing and recycling have become an essential part of preserving our planet. One man's trash can become another man's treasure, and many designers are rising to this challenge, transforming unwanted household clutter into fresh new creations. We surveyed some of the best independent recycled designs, winners of the Best Material Innovation in the Wallpaper* Design Awards 2022.
Danish design studio Better Weather works with materials sourced from factory bi-products or industrial and urban waste to create objects for life. Its colourful 'Patina' series, which features a chair, table and bookcase, is created using discarded melamine particle boards to echo the strokes of a Van Gogh painting.
Meanwhile, Canadian-born, London-based designer Philippe Malouin's 'Steel Works' chair, presented as part of a solo exhibition at The Breeder gallery in Athens at the end of 2021, was fashioned from waste material found in scrapyards with the intention of creating something with new meaning and value.
Lucas Faber's shoe rack bench, made from powder-coated sheet steel, is fitted with water-resistant inserts made from recycled rubber, while Tom Robinson's minimalist flatpack 'Evolve' chair is constructed from 100 per cent recycled plastic sheets made from discarded consumer electronics, using material supplied by The Good Plastic Company. Robust metal domino joints have been discreetly integrated into each of the chair's components, meaning the end user can infinitely assemble and disassemble the chair using one simple Allen key.
Design students are also addressing this important issue. Lauren Goodman, a recent graduate of Rhode Island School of Design, featured among Wallpaper's 22 Rising Stars in the January 2022 issue (W*273). As part of her MA graduation show in furniture design, she wrote a thesis pointing out that there were 'undervalued items everywhere. Pure potential tossed in the ditch while thinking this trash is someone else's problem. Maybe it could be my problem. I could create second chances and see value all around me.' This thinking became central to her 'Providence Project', a series of experimental furniture designs made from things Goodman salvaged from skips around Providence, Rhode Island. 'I aim to draw from my surroundings a narrative of what Providence looks like as furniture,' she says.
INFORMATION
The Wallpaper* Design Awards 2022 feature in the February 2022 issue of Wallpaper*. Subscribe today! (opens in new tab)