London's most refreshing summer cocktail destinations
Cool down in the sweltering city with a visit to London's summer cocktail destinations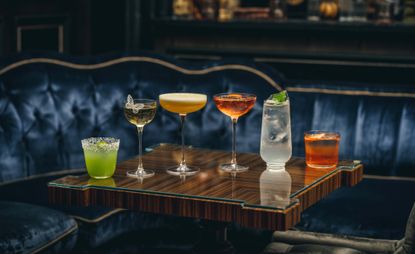 (Image credit: press)
London's hottest summer calls for a drink. To help you get some relief from the sweltering heat, we share the city's best summer cocktail destinations and our recommendations on the best their menus have to offer.
Summer cocktail destinations in London
The Wrecking Ball at Scarfes Bar
'A place where paintings and potions meet' is the tagline for Scarfes Bar at the Rosewood hotel, and its true that the glitzy Covent Garden lounge boasts some of the most creative cocktails and creative interiors in town.
The bar is named after British artist Gerald Scarfe, and playful caricatures of historical and fictional figures adorn the walls. The theme is carried into the cocktail menu, which features the Amy Winehouse-inspired 'Rickstasy' cocktail (a blend of Remy Martin 1738, Old Duff, sea buckthorn, and lavender) and the Princess Diana-themed 'Spencer Bevvy' (a sophisticated mix of Havana Club Seleccion de Maestros, fig, and chestnut mango). But our favourite is the 'Wrecking Ball' which blends Remy Martin 1738, Lychee & Shiso, Citra Hops, and Sparkling Sake to create a refreshing explosion of citrus flavours.
scarfesbar.com (opens in new tab)
The Temptation at The Twenty Two
Located inside a sprawling Georgian manor and brimming with fantastically sumptuous interiors- velvet seats, cheetah print rugs, bespoke patterned wallpapers, and the like- the Twenty Two follows in the footstep of other London icons (Mark's Club, Chiltern Firehouse) as a glamorous destination for a reliably enjoyable night of food a drinks and unfailing delicious food a drinks.
The restaurant/ hotel/ members club boasts four different bars and an extensive cocktail menu, but our favourite is The Temptation which blends Grey Goose, Cinzano Bianco, wild saf-flower, absinthe, persimmon and pepper cordial, and lemon foam for a tart and potent summer drink.
the22.london.com (opens in new tab)
The Bradford Watermelon Roulette at Hide
Michelin star Mayfair restaurant Hide instantly became a go-to destination for high-profile events, spiffy business lunches, or jazzy night on the town. The three-floor restaurant includes a sun-filled ground and terrace floor, or a cool (as in temperature and vibe) bar downstairs. Our recommend cocktail from the summer menu is a Bradford Watermelon Roulette, which blends watermelon juice, with mezcal verde, tapatio blanco, chamberyzette, supasawa, and sugar syrup.
hide.com (opens in new tab)
The Kola 75 at Booking Office 1869
Booking Office 1869 has crafted a refreshing summer cocktail inspired by the flavours of Coke-a-Cola. The Kola 75 is a reinvention of a classic French 75 that combines champagne with lime-infused gin, champagne cordial, Palette (a ginger and clove non-alcoholic spirit) and sparkling cola bitters, and is finished off with a dollop of falernum foam. It is a grown-up take on traditional soda that can be enjoyed inside the Booking Office's Wallpaper* Design Award-winning interiors or its newly opened outdoor terrace.
booking-office.com (opens in new tab)
The Clavé at Claridge's
The Clavé from The Painter's Room at Claridge's (opens in new tab) is a fresh, light-tasting cocktail that packs a kick. Melon vodka is paired with the French spirits Amontillado and Marc de Bourgogne and served with a single, hand-cut chunk of ice. Sit back and enjoy while you take in the space's art deco interiors and wall murals by British artist Annie Morris.
claridges.com (opens in new tab)
The Blossom at The Dorchester
London's grande dame hotel, The Dorchester, has just launched a cocktail menu that is as exuberantly decadent as its famous interiors. Our favourite from the list is The Blossom, a floral drink of Courvoisier VSOP, St Germain elderflower liqueur, Lillet Blanc, bergamot honey, lemon, and absinthe spray. Described as 'joie de vivre' in a glass, it is certainly delicious, and potent enough to bloom new life into anyone. Enjoy it on The Dorchester rooftop with the restaurant's Mediterranean snacks, like cantaloupe melon stuffed with prosciutto or humous foam with tapioca crisps and lemon.
dorchestercollection.com (opens in new tab)
The Bellini at Harry's Bar
It wouldn't be a summer cocktail round-up without a Bellini, and where better to get one than Harry's Bar, the London outlet of the Bellini's Cipriani birthplace. The original Bellini was created in Venice in 1948 by Giuseppe Cipriani as a blend of champagne, white peach nectar and a dash of raspberry purée. The cocktail's shade of pink reminded Cipriani of the colour of a saint's Roman toga in a painting by Giovanni Bellini (hence the name) and its zingy, fruity flavour was certainly a renaissance in the world of aperitifs. Harry's Bar's take on the classic drink mixes white peaches, lemon juice, and prosecco for an ultra-refreshing summertime nectar.
harrysbar.co (opens in new tab)m (opens in new tab)
The Chrome Yellow at Fitz's
Fitz's, the luxurious drinking den at the Grade-II listed Kimpton Fitzroy Hotel, has just debuted a unique drinking experience inspired by colour psychology. 'The Theory of Colour' is a menu of 14 cocktails that explores how colours impact our emotions and sense of taste, with warm colours like red, yellow and orange evoking stronger emotions such as love and happiness, and cool colours like blue, green and purple linked to calmness and serenity.
For those in the full swing of summertime joy, we recommend the Chrome Yellow cocktail, which mixes clarified banana, Mount Gay Xo Rum, Rémy Martin 1738 Cognac, pimento bitter, and passion fruit float. Or go all-out with the Bodice Ripper, an explosive blend of Brugal 1888 Rum, passion fruit, kumquat liqueur, tomato wine, and pomegranate.
fitzs.com (opens in new tab)
The Margarita at Rita's
What better way to celebrate the summer than a really good margarita? One of London's best can be found at Soho restaurant Rita's. Specially mixed by the restaurant's founder Missy Flynn, this pink interpretation of the summertime classic blends Tapatio Blanco tequila with lime juice, Campari, Hackney-made Victory Bitter, agave syrup and blood orange.
ritasdining.com (opens in new tab)
Mary Cleary is the Beauty & Grooming Editor of Wallpaper*. Having been with the brand since 2017, she became an editor in February 2020 with the launch of the brand's new beauty & grooming channel. Her work seeks to offer a new perspective on beauty, focusing on the pioneering personalities, product designs, and transformative trends within the industry.
With contributions from