Contemporary cabins for modern minimalists
From North Europe's thick forests to the vast green expanses of the USA, tour some of the best architectural cabins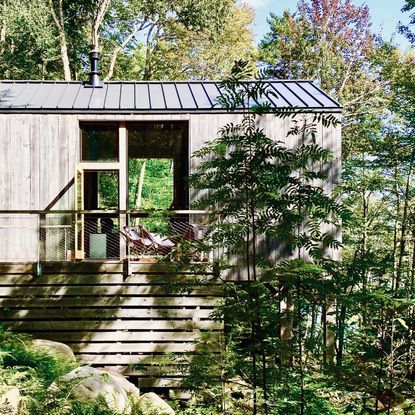 (Image credit: Stonorov Workshop)
Set on a snowy mountain slope or by the water, in the Nordic fjords or in an American forest, the humble cabin is one of the most hard-working typologies. These small but perfectly formed structures can be used for anything from a workspace to a family vacation home or a secluded retreat for one. Smart as they are functional and minimalist in feel and nature, cabins have lots to offer; ever more so, in the current pandemic climate, when extra space becomes more important than ever and connecting to nature is critical. Here we round up some of the genre's best.
Remote Lake Cabin
This timber cabin is nestled deep in the Adirondack Mountains in Upstate New York, set by an idyllic lake. The project, designed by Stonorov Workshop Architects, makes the most of its hillside location and views through minimalist architecture that allows the framed views and nature to take centre stage. The structure seems small but holds an open plan kitchen and living area, two bedrooms and a bathroom - and it can in fact house up to six people. Attention to detail means that rooms may be small but fixtures and fitting feel luxurious, including, for instance, a Starck bathtub by Duravit.
Manta North
Manta North, a Riga based prefab company, manufactures cabins that can be bought online, are carbon negative, built from sustainable materials, and equipped with modern technologies. The structures are made in CLT (cross-laminated timber) elements which are made locally to avoid the energy consumption linked to lengthy shipping, contributing towards a solid sustainable architecture plan. Their latest iteration (pictured above) has been installed within the dramatic natural landscape of Iceland.
Stinson Beach Writer's Studio
'Our client, a poet, purchased the existing one room studio building as a retreat for writing and quiet reflection,' says the team behind it at locally based California firm Fischer Architecture. 'Just a few steps away from the beach and from the historic town center, the slipshod structure was chock-full of potential, and in desperate need of its new steward.' The project may be small but packs quite a punch in functionality and inventivness. The architects envisioned it 'as a lens,' where tall and wide glass folding doors connect seamlessly to the outdoors from the main living space.
Todays's Office powered by IONIQ 5
Finnish architecture practice Studio Puisto have joined forces with Hyundai to create an office space inside a 9 sq m design cabin. The project, for Hyundai Sweden, discussed the future of workspace as well as sustainable architecture and mobility. Conceived as a twist to the popular Space of Mind cabin (seen further below), the architects created this together with Protos Demos (who worked on the project's sustainable production), and furniture brand Made by Choice, who looked after the modular interior. The car company's new IONIQ 5 'can be turned into a giant power-bank,' explains Hyundai, and therefore it can power the cabin anywhere for off-the-grid, remote working.
Atherton Pavilions
A set of twin structures outside a contemporary house in Atherton, USA sit among a landscape of redwoods and other mature trees. These cabin-like pavilions, designed by Feldman Architecture, contain auxiliairy functions for the main house - one is a social, open space, hosting a kitchen, which sits next to the pool and serves as an extension to the al fresco living experience of the garden. The other structure is a calm haven to retreat to, used for yoga, exercise, and meditation sessions. Clad in weathering Alaskan Yellow Cedar slats, the pavilions feel entirely at home in their natural setting.
Hotel on Wheels
Spanning ideas of modular living and hip hospitality, this concept offers an inovative proposition: a hotel on wheels. Created by developer Moliving Inc, the design is clear and simple and brings a nomadic approach to hospitality. 'The traditional hotel development model has proven its success for generations. Now, lifestyle habits and travel behaviors have greatly shifted. We are spearheading the change with our mobile units and proprietary technology to continue to adapt,' says Moliving Inc.'s founder and CEO, Jordan Bem. 'Moliving is accommodating by design, its flexibility feeds the desire to roam freely helping the industry to embrace the nomadic, adventure seeking traveler of today who still wants all the benefits of the traditional five-star accommodation.'
Refugio 6x6
Often the idea of refuge brings to mind post-apocalyptic universes, emergency architecture or remote places with difficult access, explain Argentinian architects Colle Croce. And it was that notion of escape and safety that they had in mind when they designed their latest project - a minimalist cabin - and called 'Refugio 6x6'. The project hints to a retreat from the daily routine and get away to a peaceful haven, a cabin that gives you the option to escape from it all and seek shelter in the green countryside. The light nature of the structure allows us to get immersed in nature, without damaging it, respecting the surroundings and remain sustainable by producing a minimal environmental impact.
Treehouse C
Created among the rich vegetation outside Ubud in Indonesia's Bali, Treehouse C is a concept by local design office Stilt Studios in an artist's village. Indeed, perhaps more of a children's treehouse than a traditional cabin, this is design is playful and fun, yet required some serious technical fine tuning. The structure is made of a core element composed of four vertical columns, which are braced by a staircase. Inside, there is a kitchen with a living area, a bedroom with its own sitting area, and a bathroom. The surrounding garden was designed by local practice True Nature Nusantara.
Writer's Cabin
A writer's cabin in the north of Madrid is a striking bolthole for a children's book author. The small home office, created by Barcelona-based MuDD Architects, uses a combination of digital fabrication and skilled building work for a curving sanctuary in the Sierra countryside. With temperatures reaching lows of -20 degrees in winter, the design accommodated the challenges of the area's climate. 'We wanted to achieve a very transparent building while still offering some comfort in winter,' explains MuDD Architects founder Stephanie Chaltiel. 'To do so, thick 20cm stone wool insulation was used in between the wooden structure, while a hung chiminea placed in the middle heats the cabin.' A rich mix of woods adds to the ambience, with different tones of maple syrup finishings in the wood a warm juxtaposition to the locally sourced pine of the bookshelves.
Hytte
Created through a collaboration between Koto Design and Aylott + Van Tromp, Hytte is a new modular hotel and retreat design that could be installed anywhere. Its name stands for 'cabin' in Norwegian and its concept represents just that; an architectural expression of pure simplicity, created through refined aesthetics and the needs of a 21st century nature-focused retreat. 'Hytte is seeking ambitious partners to disrupt the current hospitality and tourism accommodation model from existing hotel brands to new start up ventures,' says Aylott + Van Tromp's Nathan Aylott. Nordic and Japanese traditions meet in this ambitious series of excuisite, design-led mini escapes.
RELATED STORY
Permanent Camping
Set in the green countryside of a New Zealand hill, overlooking the Pacific Ocean, this unusual cabin project is the brainchild of local architecture studio Casey Brown. 'The demands of living are distilled to the essentials. The structure is made from recycled iron bark, sourced from an unused wharf float. It has three manual winches to lift and lower the sides of the building creating an overhang to protect against the summer sun,' explain the architects.
Tetra Pod
Indonesia based architectural designer Alexis Dornier has created a prototype for a cabin in the woods. Tetra Pod, as the concept is called, is situated in Uluwatu, South Bali, and the plan is for it to be the first of many. Developed by Slit Studios as a series of rentable accomodations, the project will combine chic, boutique cabins with amenities on site, including a common area, sport facilities, spa, permaculture, and co-working spaces. In theory, the design can be replicated anyway, as it is available to all to buy, so you could even have it built in your own back yard.
Aska
This is an all-timber, sustainable cabin built in the natural landscape around Lake Mývatn, in Northern Iceland. Created by Studio Heima, the burnt pine and plywood structure is to be the first of several. At 21 sqm, it is compact but elegantly furnished with a double bedroom, private bath and an open plan kitchen. Using Shou sugi ban, the ancient Japanese technique for wood treatment that makes timber durable, the cabin is effectively and sustainably protected from the elements. Drawing on its context, the project was called 'Aska', which translates to 'ash', referencing 'the Icelandic volcanoes with ash and lava lying like a blanket in the landscape,' explain the architects.
Arcana
Situated in the Canadian wilderness 2-hours outside of Toronto, this is a group of cabins designed with wellness and nature in mind. Created by Aruliden and Leckie Studio, Arcana is a 'brand new hospitality getaway concept that prioritizes high-calibre design and architecture as a part of its offerings,' explain its authors. Clad in mirrors, the cabins become almost invisible and merge with their green context, reflecting the trees and weather changes around them. The group of structures are now taking bookings for this fall.
Modulr Space
Created at a time where all of us are seeking more and flexible space to work and rest at home, Modulr is a prefabricated cabin concept especially conceived as a contemporary solution for personal workspace. The design is created by in-house architects and comes with some pretty cool eco-credentials too. Each one is made with low-emission manufacturing processes and carbon-negative/fully recyclable materials, including high-performance insulation, Kvadrat fabrics and sustainable Smile Plastics surfaces. The sleek-looking cabins can even be transferable to different locations as the structure doesn't require a permanent concrete base. And of course it comes in various configurations that can accomodate functions beyond an office environment, providing anything from a spare room to a home gym.
The Boulder, Norway
This Norwegian concept hotel provides the perfect combination - a high end, design-led environment and an experience that feels at the same time immersed in nature and offering a refreshing simplicity. The property features two ski lodges in Lysefjord, set upon a cliffside. Interiors are created by Vipp, while the clean, sharp, cedar wood-clad exterior allows the rich natural landscape to take centre stage. The minimalist architecture was created by John Birger Grytdal of Norgeshus. Inside the timeless and functional design by the Danish company unites warmth with dark tones (such as the oak ceiling) and cool cocrete flooring.
Majamaja Cabin, Finland
Facilitated by the City of Helsinki and offering visitors the option to stay at a serene spot on the Finnish archipelago, this cabin includes minimalistic wooden design and the highest ecological standards. Part of what will in the future become a whole 'village', this off-grid living experience is designed and masterminded by Littow Architects. The structure includes a clean, flexible living space as well as shower, kitchen and a dry toilet. Cleverly integrated furniture and a sophisticated white and grey colour palette form a functional interior with a distinct contemporary feel. Large openings allow the user to take in the scenery, which includes a sea-view over the Suomenlinna sea fortress and Unesco heritage site. The first Majamaja unit has now been constructed at Vuorilahdenniemi, Helsinki – while more are in the pipeline.
Dwelling On Wheels (The DW), USA
Seattle-based custom studios maker The Modern Shed has launched its first ever portable cabin. The design, named Dwelling On Wheels – a.k.a. The DW – does just what it says on the tin; it provides its owner with a flexible, compact little home that can travel to be installed wherever you want your life or work to be. 'The DW can do a lot – it's great for enjoying nature short-term, for off-grid living, or as a second, remote home,' says the company's owner Ryan Smith. The clean overall volume design continues inside in an all-wood wrapped interior. Smart, built-in storage, solar panels on the roof, a wood burning stove and high-intensity, slim insulation paneling in the walls are some of the project's clever design and living features. A small entrance deck, connected to the ground via a retractable staircase, can expand to form a porch, providing the perfect spot to sit and relax.
Space of Mind, Finland
A collaboration between three Finnish studios, Space of Mind was conceived as a modular cabin to house a workspace, personal yoga or meditation studio, art studio, or guest bedroom. It could sit in a back yard, a more rural setting, or even a rooftop. Architecture studio Puisto, specialist interiors manufacturers Protos Demos and design house Made by Choice created the modern cabin as a dedicated space to think, recharge and unwind – 'somewhere we can find our own peace of mind,' explains the team. The cabin, a clean, minimalist, contemporary design, is made as a mass timber construction using ecologically sourced Finnish wood – this means it's very durable against the elements too. Coming at just under 10 sq m total, the compact space comes with its own custom furniture that attaches to the wooden structure. It has been created light enough to travel and install even in the remotest locations. 'As a concept, Space of Mind was initially developed in response to the on-going pandemic,' says the team. 'With many of us now spending significantly more time at home than ever before, our collective notion of a 'home away from home' needed to be redefined to fit our newly limited range for travel.'
INFORMATION
studiopuisto.fi (opens in new tab)
protosdemos.com (opens in new tab)
madebychoice.com (opens in new tab)
littowarchitectes.com (opens in new tab)
modern-shed.com (opens in new tab)
Ellie Stathaki is the Architecture Editor at Wallpaper*. She trained as an architect at the Aristotle University of Thessaloniki in Greece and studied architectural history at the Bartlett in London. Now an established journalist, she has been a member of the Wallpaper* team since 2006, visiting buildings across the globe and interviewing leading architects such as Tadao Ando and Rem Koolhaas. Ellie has also taken part in judging panels, moderated events, curated shows and contributed in books, such as The Contemporary House (Thames & Hudson, 2018) and Glenn Sestig Architecture Diary (2020).