The Beach Caves brings art, music and island spirit to Six Senses Ibiza
The Beach Caves, a new addition to the island's Six Senses resort, unites creative luxury and Ibizan nights with its in-house recording studio and music on the rocks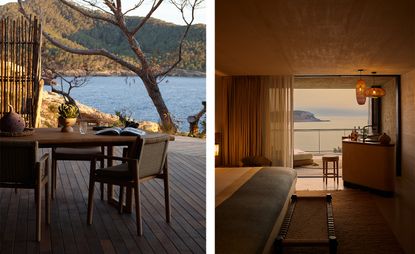 (Image credit: Fernando Marroquin)
Imagine the serenity of being on a glistening, white sandy beach, cocktail in hand (perhaps a Los Gatos Chicha Morada Sour or a Carnaval Cachaca and Padrón Peppers) and the wide blue bay of Cala Xarraca stretching in front of you. Paddleboard, take a dip in the infinity pool or relax at the lounge area on the rocks, where local DJs facilitate an atmospheric day-to-night transition in sunset-backed Ibizan style. The Beach Caves at the Six Senses Ibiza resort was envisioned and realised by creative director Ben Pundole with wellness, culture and creativity built in.
The Beach Caves is a new focal point at Six Senses' stunning Ibizan resort, thanks to its communal spaces designed with the spirit of the Spanish island's life at their heart. Pundole has collated creatives to decorate the space: the restaurant's mural by Carlito Dalceggio sets the tone; spaces by design studio Diego & Alexeja are adorned with bamboo chairs and intriguing woven lamps; and photography by Fernando Marroquin considers the 'tension between opposites' – summarising the contrasting tranquil days and lively nights at The Beach Caves.
The Xarraca Room cultural events space is the hub of the new addition and, with Barcelona-based artist and designer Lydia Delgado at the helm, its arts and music programme is sure to scratch an inquisitive itch, with panel discussions and live performances.
With summer events held through to October, the resort's cultural calendar so far has included Eduardo Castillo, Bloem, and Tanika, and the venue is on a mission to highlight local artists with its Wednesday events schedule and monthly Disco Los Gatos party. Live music in the bar and the Xarraca Room combines with decadent meals in the restaurant, which celebrates locally sourced and seasonal ingredients, to ensure there's always a well-measured evening of relaxation on offer.
The diverse venues at The Beach Caves are all connected by one major element: the sea. Each room is distinctly individual; freestanding bathtubs sit on wooden decking in intermediate spaces between inside and out, while driftwood-framed balconies look out onto the water and tie the spaces together.
One key (and luxurious) highlight of Six Senses Ibiza is the recording studio with direct access from the Cave Royale Suite. The suite and its accompanying recording studio place the resort firmly on the map for musicians. With an in-house engineer, the studio makes the resort into a hybrid work-play space for international artists, and a magnet for local creatives.
With the addition of The Beach Caves, Six Senses Ibiza neatly balances good food, brilliant music and a cultural immersion.
Martha Elliott is the Junior Digital News Editor at Wallpaper*. After graduating from university she worked in arts-based behavioural therapy, then embarked on a career in journalism, joining Wallpaper* at the start of 2022. She reports on art, design and architecture, as well as covering regular news stories across all channels.
With contributions from