Analogue Pocket puts gaming nostalgia in the palm of your hand
The Analogue Pocket is a way of replaying the many thousands of game cartridges created for Nintendo's iconic Game Boy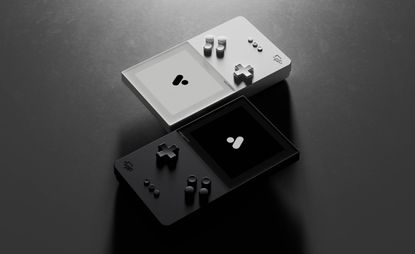 (Image credit: Image courtesy of Analogue)
The new Analogue Pocket is making waves amongst the gaming community. We first reported on the Pocket over two years ago (opens in new tab), since which time the design has been refined and the interest ramped up to feverish levels. Put simply, the Analogue Pocket is a way of replaying the many thousands of game cartridges created for Nintendo's iconic Game Boy, the pocket console that was launched in 1989 and sold well over 100 million units before the last model was made in 2003.
The little unit's direct, highly responsive gameplay and crisp monochrome graphics (a colour version was also made) have since come to represent the acme of video game simplicity, something that terabytes of storage, lightning-quick graphics cards and global multiplayer gaming still hasn't managed to recapture.
Analogue exists to keep these games alive. Almost as long as games have existed, there's been a parallel industry in gaming nostalgia. Whereas software emulation is widespread, it requires a bit of technical know-how, plus an inevitably non-legal source for the original software. The Analogue Pocket isn't emulation; it's a recreation of the original hardware using modern circuitry, meaning that the 2,780 games released for the Game Boy family will play exactly as they were originally intended.
Although the device spent a couple of years in development hell, units are finally making their way out into the world, and the reception has been overwhelmingly positive. Pre-orders for the first batch of machines sold out in just eight minutes. Christopher Taber, Analogue's founder, sees the device as a way of celebrating and preserving the vast amounts of creativity that went into these tiny machines.
'Video games are not respected at the same level as film, music, etc,' he says, '[even] though video game history is made up of the same components – incredible artists, storytellers, creators, visionaries. There are decades of incredible human creation to explore.' The company is also gearing up to produce the Analogue Duo (opens in new tab) console, a loving recreation of the NEC video game system.
The Pocket doesn't just limit you to original Game Boy titles – the hardware can also handle Game Boy Color and Game Boy Advance, and there's an adaptor that allows the slightly larger cartridges from Sega's competing device, the Game Gear, to be slotted in as well. All this chopping and changing between different eras is easily handled by the large 1660 x 1440 screen, a far greater resolution than the original's 160 x 144.
Thanks to this flexibility, every kind of output can be faithfully recreated, from the greenish hue of the original Gameboy to the crisp 8-bit graphics of the Game Gear. In the future, similar adaptors are promised for the rather more niche Atari Lynx and Neo Geo systems. One benefit of bespoke hardware is the ability to 'save' your game state so that you can return to it later, something that was simply impossible on the original systems.
The Pocket is a bit larger than the machines it imitates. A solid piece of industrial design, it feels robust and weighty in the hand. A separate dock is available for charging via USB, as well as for connecting the device to a television using wireless or Bluetooth. In addition, there's also a headphones jack and proprietary cable slots for hooking the unit up to computers and musical instruments. The Pocket isn't just a gaming machine – it contains an inbuilt copy of Nanoloop, a synthesiser and sequencer developed over 15 years ago for the original Game Boy.
The flexible, low-tech software allows two Pockets to be synced together or drive other instruments over MIDI. Taber was always keen to bring in this added layer of creativity, supporting electronic musicians who want access to the sweet sounding and richly evocative lo-fi sound libraries. 'We wanted to bring something above and beyond what anyone could do by "modding" their original Gameboy for musicians,' he says.
There's plenty of joy to be had digging through drawers, yard sales and secondhand shops in search of long forgotten games cartridges. Analogue is well named, for the company perfectly captures the hands-on spirit of old school gaming. This was the era of pixel perfect gameplay, intricate graphic design, and masterful coding, all of which can be experienced through the physical focus of dedicated hardware, not an all-singing, all-dancing distraction machine like a smartphone.
Finally, Analogue has included another exceptional extra: GB Studio. Billed as a 'drag and drop retro game creator', it gives the Game Boy aesthetic a whole new lease of life. The Pocket looks set to become a modern classic, with orders now backed up into 2023. If you're dedicated enough to get your hands on a unit, you'll be unlikely to put it down.
INFORMATION
Analogue Pocket, from $219.99 plus accessories
analogue.co (opens in new tab)
Jonathan Bell has written for Wallpaper* magazine since 1999, covering everything from architecture and transport design to books, tech and graphic design. He is now the magazine's Transport and Technology Editor. Jonathan has written and edited 15 books, including Concept Car Design, 21st Century House, and The New Modern House. He is also the host of Wallpaper's first podcast.