ABBA Voyage director Baillie Walsh on songs, sequins, and virtual spaces
Baillie Walsh, the director behind ABBA Voyage, one of the most advanced entertainment spectacles ever, tells Wallpaper* how the magic happens, ABBAtars and all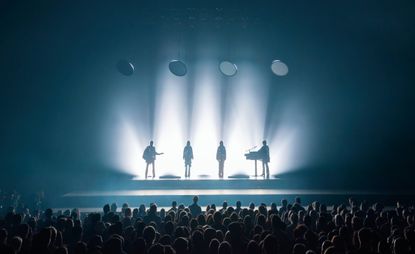 (Image credit: Johan Persson)
Who would have thought that one of the most advanced entertainment spectacles on the planet would have originated with four septuagenarian Swedes?
'I love a challenge,' says Baillie Walsh, the director responsible for bringing ABBA's new spectacular Voyage show to the stage (or screen, depending on your hankering for accuracy).
Walsh has been immersed in the music industry for most of his career, directing videos for Massive Attack, Kylie, New Order, Spiritualized and Oasis, among others, in addition to campaigns for brands like Cartier, YSL, Thierry Mugler, Sony, and Versace.
Two years ago, he got a call from ABBA's producers, Svana Gisla and Ludvig Andersson, eager to progress the idea of a new kind of music experience based on the band's evergreen music. Despite the quartet disbanding in 1982, their music has never really left the public consciousness, eventually bubbling triumphantly to the surface once more with the globally successful Mamma Mia! stage show and films.
The initial call was swiftly followed by a Zoom meeting with Benny Andersson and Björn Ulvaeus themselves; Walsh got the job on the spot. 'At that point, the idea wasn't fully formed,' Walsh recalls. 'They knew they wanted to do something, but not how or what.'
The idea of a digital experience had already been in the works for a couple of years, timed to coincide with the first new ABBA music since 1981 album 'The Visitors'.
The pandemic shuffled the whole project back by a couple of years, during which time the hunger for communal live experiences only grew and grew. Walsh says the very first question he asked himself was 'What would I want to see? And I wanted to see something that I'd never seen before – an immersive concert experience that was believable.'
The result is ABBA Voyage, a 95-minute spectacular that takes the audience through ABBA's career (albeit not in chronological order), using strikingly animated CGI 'ABBAtars' of the four members, seamlessly blended with a live band and light show.
Early on in the process, the producers engaged Industrial Light and Magic (ILM), the world's foremost CGI specialists. 'They knew they needed great tech people,' says Walsh, 'even though there still wasn't a fully finished idea. What I wanted to know was: can you create ABBA as they were, back in the day?'
Simply showing videos or lights and animations wasn't going to be enough, certainly not to sustain a long run. As the show gradually came together, it became clear that it would have to be a seamless blend of old and new, live and pre-recorded, analogue and digital.
The four members of ABBA drew up a setlist, effectively creating the 'screenplay'. 'It moved around a bit – we added and dropped a few songs,' Walsh admits, 'but finally I had a structure to work with.'
There then followed two motion capture shoots, including five weeks with Benny, Björn, Ana-Frid and Agnetha in Sweden, running through the performances again and again, rehearsing moves and interactions, not just during the songs themselves, but in the moments in between. It was then time for four doubles to do the routines once more and inject a bit more of the spirit and verve that the original quartet could no longer stretch to.
The award-winning British choreographer Wayne McGregor guided this process every literal step of the way. 'Wayne took their performances and then extended them,' Walsh explains, 'he put [their movements] into young bodies, basically.'
ILM took this huge tranche data and modelled the four ABBAtars, drawing on the rich costumes of the era and the very latest simulation engines for hair, skin, and fabric.
'Every thread was modelled,' Walsh marvels, with the signature sequins and rhinestones shining brighter than ever before (it was once alleged that ABBA's stage wear owed its outlandish styling to Swedish tax laws, which stipulated that entertainer's costumes were only deductible expenses if they couldn't be used as everyday clothing).
This is where the first layer of blending came in. The core of the show is a digital performance by ABBA, rendered at life size on a colossal LED screen. Made by display specialist ROE Visual, a global company with origins in China, it has a resolution of 19,536 x 3,344 pixels, or 65.3 million 2mm square pixels in total; when running at a smooth 50fps it means that 3.2 billion pixels are being processed every single second. For reference, an Apple Pro Display XDR has a resolution of 6,016 x 3,384 pixels, a total of 20.3 million pixels.
ROE's original innovation was to create a modular display system, Magic Cube, that was designed to be demounted for easy touring, and it has also moved into the new generation of 'virtual production' studios that are gaining traction in Hollywood and beyond. Today's ultra-high resolutions mean that digital backdrops can be used for live action, creating lighting and reflections that are consistent and believable.
ABBA Voyage presented a different challenge; the lighting also had to be manifested in the real world, experienced by 3,000 people, not just on the screen.
To achieve this, the virtual stage behind the CGI characters is modelled to be an extension of the real arena, with CGI lights and rigging stretching off into the 'distance', aligning perfectly with the real lighting rig out front. If you're seated centre stage the illusion is seamless; there is no hint as to where the screen ends, and the arena begins.
Walsh is effusive about the design of the new temporary arena, designed by London-based entertainment specialist Stufish (opens in new tab), the company founded by the late stadium supremo Mark Fisher, an architect who directed his training towards spectacular performances by the likes of U2, The Rollings Stones, and Lady Gaga.
'The experience really starts when you arrive outside Stufish's arena – it's already exciting,' says Walsh. 'You have to go through these tunnels of light and that's very different to a "normal" venue. The arena design came first – I was involved only in the stage and screen.'
Walsh is somewhat underplaying his intense involvement with the project over that span of more than two years. 'To make this real and living and breathing, we all knew it was about how the light worked,' he says. 'For example, in "Lay all your love on me", there are lasers in the room, but not on the screen. However, the moving laser lights have been modelled by ILM to reflect on the digital costumes.'
Co-ordinating this immensely complex blend required a billion hours of computing time.
Behind the scenes are a tech team of 17, ensuring that the screens and lighting systems dovetail perfectly. 'You don't know where the digital world ends and the real world begins – it's about blending the two,' says Walsh. 'All that work was decided two years ago.'
Not every song is given this naturalistic treatment; some are done using the big screens alone, with vast 10m-high projections of the band, or specially commissioned animated films. For the ballads, in particular, the intercutting and layering of shots is very reminiscent of ABBA's pioneering video style back in the 1970s.
The overall effect is pretty remarkable. The ABBAtars themselves are seamless when viewed at distant human scale, but there's still the light veil of CGI waxiness to the faces. For the first couple of minutes, you're required to hike down the steep slopes of the Uncanny Valley, but it's by no means an arduous trek. By the second track, you stop wondering how it's done and just enjoy yourself.
'I'm interested in emotion – the idea that you could create an avatar you had an emotional response to was really important,' Walsh says. 'Most importantly, after the first five minutes of the show, the technology has to be the least important thing.'
Although the camera pans and zooms for the large-scale close-ups are mostly naturalistic, albeit nigh-on impossible to achieve without an army of extremely agile camera operators, there's only one moment in the entire show when this 'fourth wall' is comprehensively broken. The screen flips from a bird's-eye view of the four performers before swooping down to eye level, like Google Street View on steroids.
Other visual tricks have been deployed to maximise the realism. Walsh planned it so the 'stage' never goes completely dark. Between songs, and in some routines, the characters can be seen moving about in the half light of 'backstage', their sequins still sparkling. 'These were important moments to keep up the belief that it was a stage, not a screen,' he says. 'It was a very conscious decision not to let the tech take over.'
The band, lighting crew, and tech team from ILN finally got access to the new arena in February 2022 to start rehearsals. 'You can always tell a lot by how a crew responds,' says Walsh. 'We had the worlds – the music team and the film team – and when these cynical old guys got excited, then I knew we had something.'
ABBA Voyage opened in May 2022 to almost universally approving reviews and near-hysterical audience feedback. It's a fantastic show, well worth a visit, if only to experience the true state of the art. Walsh is still involved, tinkering and tweaking. 'I'm seeing how smoothly the show runs – it's an enormous mechanical beast,' he says. 'I get quite anxious about all that data.' He hints that setlist changes are not just possible, but planned, and the ABBA canon of nearly 100 songs means it could run and run. He admits that perhaps more than any other band, ABBA lend themselves to this new approach. The history doesn't feel forced. It's not too perfect. Very occasionally the visuals dip into obvious CGI, but Walsh and his team keep the (virtual) camera moving, using the full width of the massive stage to distract and delight.
'What was really interesting was working directly with ABBA and reinventing them – there is nostalgia there, obviously, but you're also bringing them up to date,' says Walsh. 'It's ABBA, but it's also 2022 ABBA.' Having the original members working so closely on the project was also crucial. Others have noted that this sort of approach could be repurposed to bring back all four Beatles, Elvis, Bowie, Prince, any number of deceased performers.
'It would be much more difficult to do this posthumously,' Walsh says, and it's true that the many occasions when stars have been digitally 'resurrected' feel rather less authentic and organic given the performer's obvious lack of involvement. Whitney Houston in Vegas, Tupac Shakur, Michael Jackson, and Roy Orbison have all been given this virtual treatment, with varying degrees of success, although these recreations relied on projection, not LED screens, to generate the image.
Has an eternally young ABBA created a new kind of music experience? The Rolling Stones are currently on their 60th-anniversary tour, but there's a very different image and ambience. ABBA Voyage works because the band can play with being frozen in time, what were once deliciously archaic costumes and hairstyles are now already well into their second or third time around the fashion block. ABBA embody memory and nostalgia, with the only scandals being ones of the heart. It's the antithesis of the slowly maturing fine wine of the Stones' heady brew, with its potent cocktail of drugs and debauchery, survived and transcended.
Sure, Voyage might ring just a tiny bit hollow in comparison – the adrenaline buzz has a far steeper taper than a 'conventional' concert. Pop music has always been about combining emotion with the state of the art, be it in sound, vision, or fashion. Voyage is a delirious fusion of them all, a consistently delicious tonic for an uncertain age.
INFORMATION
ABBA Voyage
Booking details at
abbavoyage.com
Jonathan Bell has written for Wallpaper* magazine since 1999, covering everything from architecture and transport design to books, tech and graphic design. He is now the magazine's Transport and Technology Editor. Jonathan has written and edited 15 books, including Concept Car Design, 21st Century House, and The New Modern House. He is also the host of Wallpaper's first podcast.