60-Second Cocktails: new book shakes up happy hour at home
This new 60-Second Cocktails book brings happy hour into your home with easy but sophisticated cocktail recipes and tips to guide even novice shakers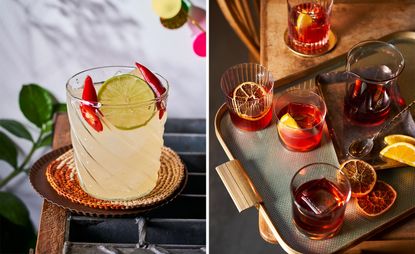 (Image credit: Vinny Whiteman)
Joel Harrison and Neil Ridley are well-versed in the world of cocktail-making, with expertise on the subject spanning writing, presenting and hosting. In their new 60-Second Cocktails book, they bring happy hour into the home, sharing how to make delicious cocktails swiftly, whether simple or more sophisticated. Three chapters represent differing levels of cocktail complexity: 'No Shake, Sherlock', 'Shake it up' and 'Magnificent Mixes'.
'No Shake, Sherlock' covers easy-to-make cocktails. Beyond the traditional go-to spirits, the drinks use port, sloe gin and Weissbier to create twists on spiritzers and coolers, while Harrison and Ridley offer up their take on a staple, the Next Level Negroni.
The slightly more ambitious 'Shake it up' chapter covers cocktails that require a touch more effort and equipment – but still remain simple. The Firecracker Margarita tastefully elevates the dry and juicy flavours of a classic Margarita with a kick of chilli, while the herbal tones of a Gibson are balanced out using the smooth earthy notes of a few drops of olive oil. A staple Whisky Sour is included, as well as a twist on a Brandy Alexander.
Throughout the book, we are gently encouraged by the authors to personalise our drinks with herbal additions, such in the Wondermint Julep, which features thyme or lemon mint to taste.
The depth of Harrison and Ridley's understanding of the world of distillation is a key element of the book. They break down the drinks into flavour groups and explain garnishes, glasses and equipment required. Each cocktail has an occasion suggestion and a tip about when it's best to make batches.
One beverage to note, and a feature in the 'Magnificent Mixes' chapter, is the Banana Bread Daiquiri. The concoction calls for a rum and banana bread infusion and sits alongside beverages such as the Heart Peat – a take on a Blood and Sand cocktail – and the King of Roses, a gingery tipple plucked from the menu of the now-closed London cocktail barCasita.
INFORMATION
60-Second Cocktails by Joel Harrison and Neil Ridley. Published by Mitchell Beazley
Martha Elliott is the Junior Digital News Editor at Wallpaper*. After graduating from university she worked in arts-based behavioural therapy, then embarked on a career in journalism, joining Wallpaper* at the start of 2022. She reports on art, design and architecture, as well as covering regular news stories across all channels.
With contributions from
You might also like
Chic peas: new art cookbook charts a history of hummus

On the Hummus Route traces a utopian track between cities, people, markets and dinner tables. It documents street food in nine Middle Eastern cities, including Cairo, Jerusalem, Gaza, Tel Aviv, Jaffa, and Damascus, and in doing so, offers a fascinating insight into the area's design, food, and culture

By Elly Parsons • Last updated
View More ▸